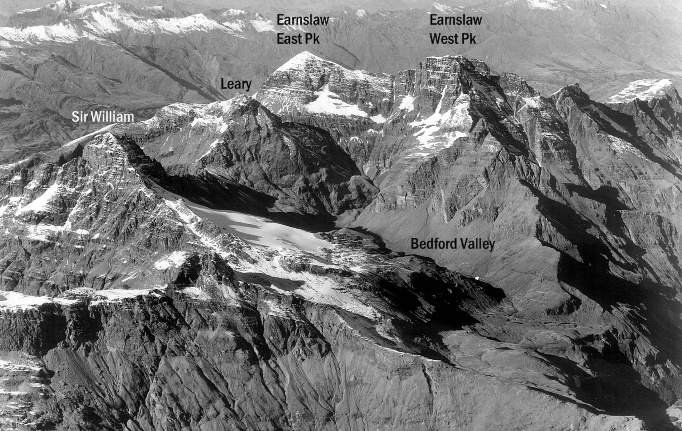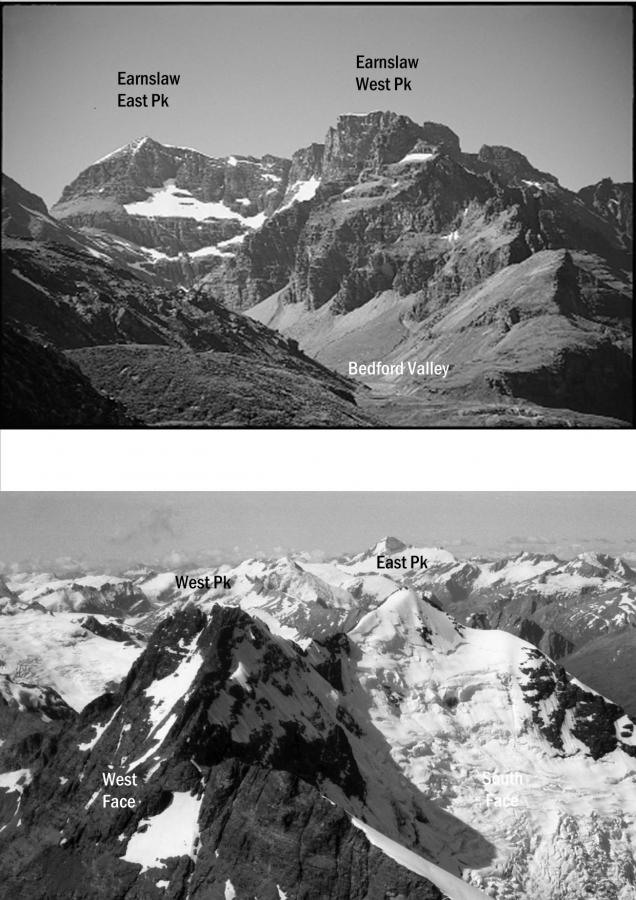 Reference
Title
Grade
Length
Quality
Bolts
Gone
Natural pro
Link to edit content
Wright Robertson Route.
II 2

Gain access to a scree shelf by scrambling though first rocks on the north-east shoulder of the East Peak and then follow the scree shelf round until directly under West Peak. Here a chimney leads up 500m directly to the summit. The foot of the chimney can be reached from the standard route to Pluto Col from Wright Col.

H.F. Wright and J. Robertson, 6 February 1914.

Leader Route.
II 2

From Wright Col traverse shelf as in Route 6 but when under the col in the ridge between the East and West Peaks ascend a steep crack of rotten rock to the col. After a short deviation on to the steep South Face, ascend the ridge to the summit.

V.J. Leader, 10 March 1935.

North Ridge.
II 2

From Pluto Col climb up the north ridge until, at about 150m below the peak, a traverse across a small couloir to a subsidiary ridge overlooking the main couloir on West Peak can be made. The left side of this ridge is climbed back to the main ridge which is followed to the final slope via a narrow ice ridge. A variation on this route is to climb the first mentioned big couloir to the ridge seen from traverse around to Pluto Col.

West Face – Southwest Ridge.
II 2

From Spaniard Valley climb up to and over scree until hard under the point at which Seven Sisters Ridge joins the ridge from Turret Head. Here a couloir of loose rock leads to a notch in the main ridge. The first detour necessary is made on the Spaniard Valley side but further up a detour is forced on the Earnslaw Glacier side on steep ice. Some earlier attempts at this route via Turret Head failed, one of these at the point where a detour on to the Earnslaw Glacier became necessary due to conditions, but otherwise this route is feasible.

South Face – East Ridge.
II 2

From Earnslaw Burn climb to the col between Black Peak and the East Peak before traversing across the Earnslaw Glacier and ascending diagonally through icefalls to reach the ridge between the East and West Peaks to the west of the lowest point. Then follow the ridge, detouring as necessary on the glacier side.

South Face.
II 2

Scramble up through lower bluffs and slightly right up through scree slopes until ledges sloping steeply up to the left give access through the main bluffs to the final easy slopes. Start on scrub covered ledges on the true right of the Earnslaw Burn, then ascend the right hand ice rib.

Peter Glasson, Colin Strang, Jan 1973.
Attribution:
Allan Uren & John Cocks. Photos, Brain Wilkins & Lloyd Homer GNS Science.
UUID:
24d255ae-5140-46bb-b7a1-1b47ff9f81c3