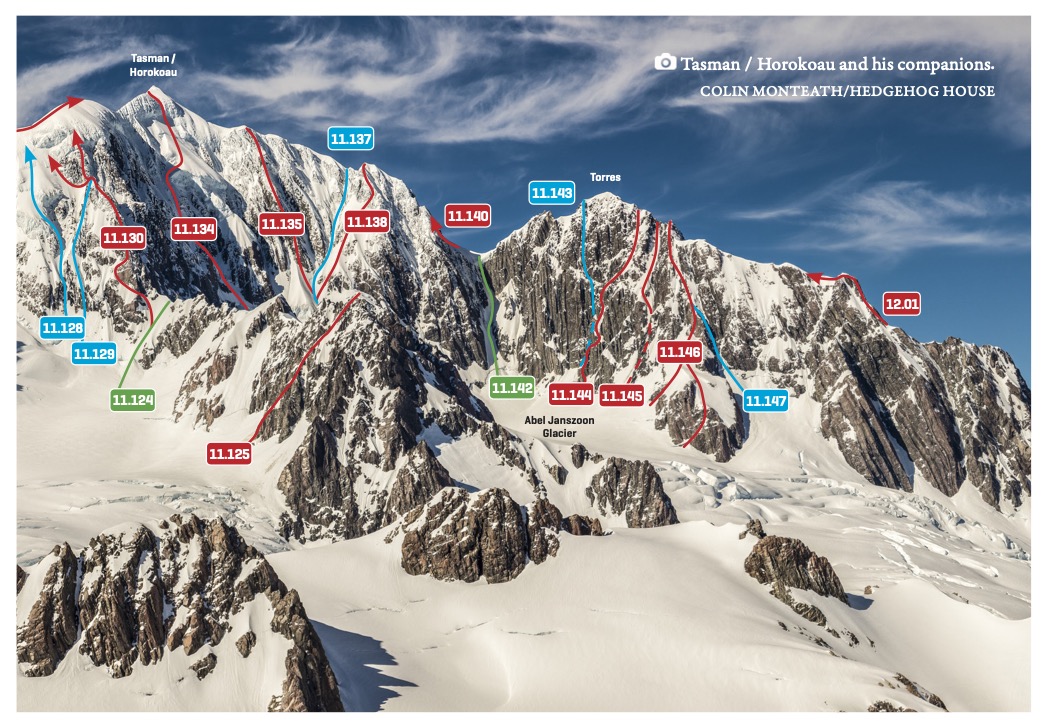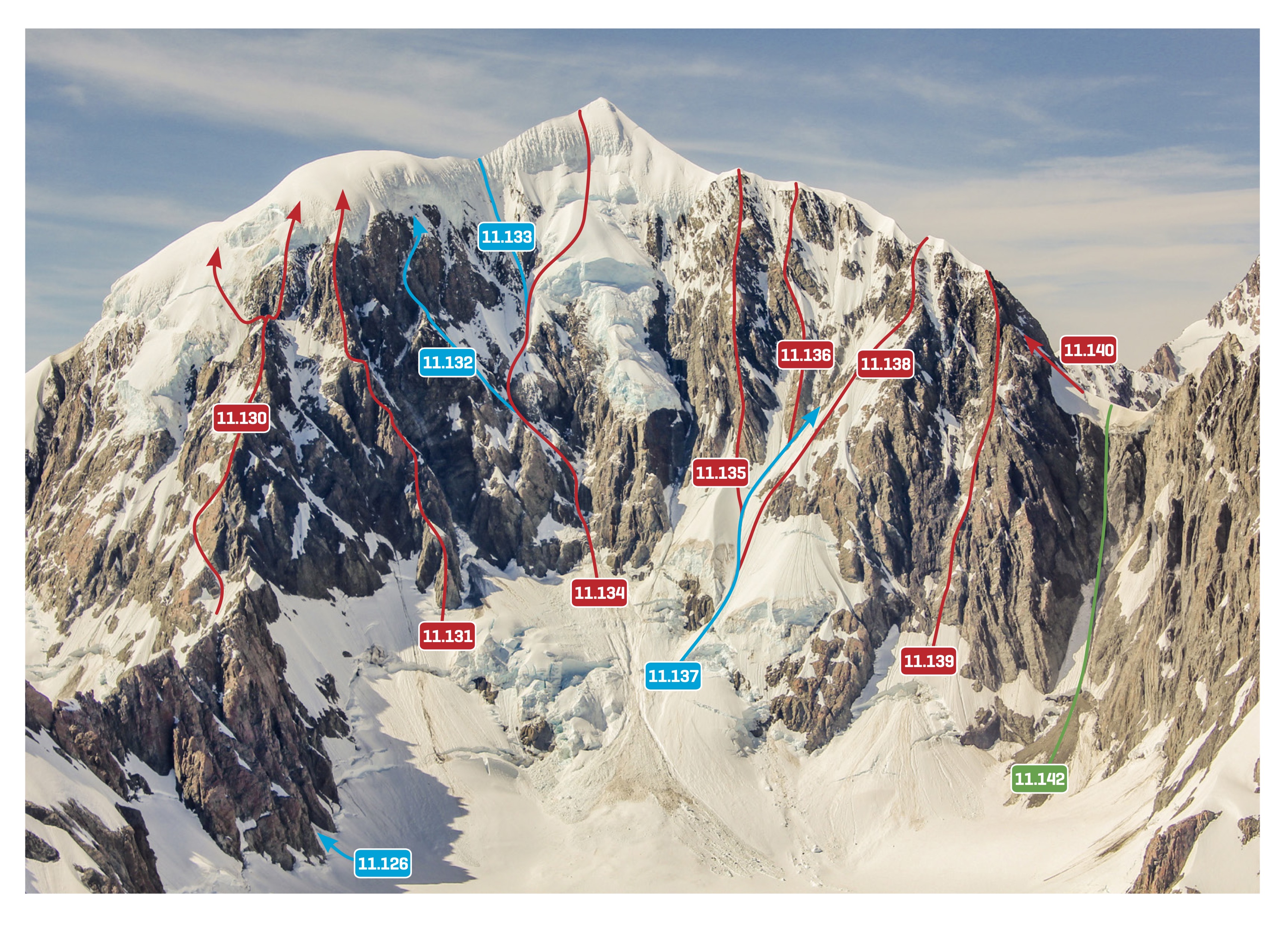 Reference
Title
Grade
Length
Quality
Bolts
Gone
Natural pro
Link to edit content
Silberhorn Arête
3+

Climb to the Main Divide via Clarke Saddle, Graham Spur, or Silberhorn. Then ascend the final steep ice arête; a classically beautiful ice climb.

Jack Clarke, Edward FitzGerald, Mattias Zurbriggen, Feb 1895.

Direct to the south of the Summit
4-

Up directly to the col between Silberhorn and Mt Tasman.

Kobi Bosshard, Fritz Schaumburg, Jan 1962.

Direct to the North Shoulder
4

Up slopes under the summit of Mt Tasman parallel to Syme Ridge, finishing either directly to the summit or onto the North Shoulder.

Hans Leitner, Eberhard von Terzi, Jan 1960.

Syme Ridge
3+

Access onto the ridge is either up the slopes under the East Face (the 'Mad Mile'), up a broad gully on the toe of the ridge, or from the north-east side of the ridge (a rock section on the ridge has been crumbling away for some years but seems to be stable now). Then follow a narrow winding arête, which gradually broadens, to gain the North Shoulder of Mt Tasman. From here follow the Main Divide, which narrows before rising to the summit.

Dan Bryant, Rod Syme, 1930.

11.127
North Shoulder
IV 3 3+

A classic climb. From the summit of Lendenfeld, Tasman appears very close and, if conditions are good enough that you do not have to pitch the route, then it should not take long. However, several parties have found themselves on overnight epics due to pitching the entire Plateau Face, usually due to hard ice. There is nothing very steep on this climb, but you need to be comfortable with a lot of air under your feet.The climb is best approached by traversing over Lendenfeld to reach Engineer Col. Above Engineer Col, there is often an icecliff straddling the ridge crest. The route usually follows moderately steep ice gullies on the Plateau Face to where Syme Ridge joins the North Shoulder. Although the section above the col has changed markedly over the last few decades, it still provides a relatively straightforward route onto the shoulder. The broad North Shoulder eventually narrows into an exhilarating ridge, which leads to the summit. Also used as a descent route.

Marcel Kurz, Harold Porter, Jan 1927 (Descended).
UUID:
fa7eb7ae-8181-4f87-ad0b-889df0b75ee6