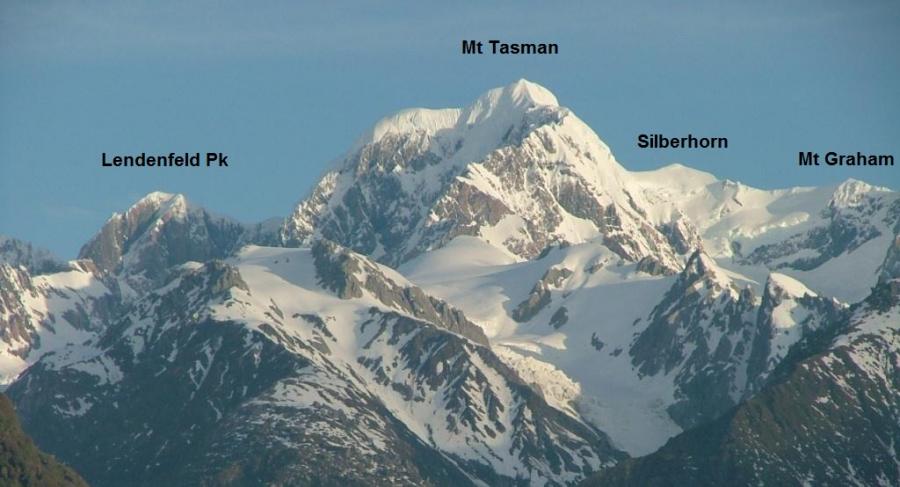 Reference
Title
Grade
Length
Quality
Bolts
Gone
Natural pro
Link to edit content
East Face
3+

From the névé between Syme Ridge and Mt Dixon climb directly to the summit detouring where icecliffs dictate.

(Possibly) Rob Rainsbury, Dick Strong, Keith Thompson, John Visser, Dec 1970.

From Marcel Col
2

From Marcel Col the route is straightforward (however, hard ice can form easily here, especially in winter). This is also the most common way Engineer Col and the North Shoulder of Tasman are gained. An easy descent route, but beware of the cornice that sometimes forms on the summit of Lendenfeld.

Alex Graham, Henry Newton, Feb 1907.

Aurora Australis
3

Gain the large snow shelf left of Hamilton-Berry rib by a short rock/mixed step. Ascend to the top left end of the snow shelf through a mixed gully to the summit ice-cap.

Andrew McAuley, Andrew Corvini, Feb 1992.

Hamilton-Berry Rib
3+

The bottom 200m provides steep sound climbing and the rib then slowly relents to form a "Giant's Staircase".

Alan Berry, Neil Hamilton, Dec 1955.

North West Couloir
3

Up the snow and ice gully between the two rock buttresses. This route may lack ice later in summer.

Merv English, Peter Hillary, Nena Ritchie, Jul 1978.

North West Rib
3+

Parallels the Hamilton-Berry Rib, with good climbing on slabs and ribs of excellent rock.

Dave Bamford, John Nankervis, Feb 1977.

The Mutant
6+

9 pitch route on West Face of Lendenfeld. The first 5 following a stonking line. The route takes a line originally climbed as arock route by Andy McFarlane and John McCartney but details are hard to come by.

Allan Uren,Tim Robinson, Julian White

West Face
4 16

2 short hard climbs on excellent rock, commencing on the right side of the face (crux 16). Bell/Bogie/Hyslop climbed the face more directly, Allen/ Williams climbed a line commencing from the gully on the right, Nov 1978. This is right of the obvious line of "The Mutant"

Lindsay Bell, Don Bogie and Ken Hyslop

From Engineer Col
2

Straightforward, but slightly threatened by avalanches off Mt Tasman. Glacier access can sometimes become cut off.

Alex Graham, Henry Newton, Feb 1907 (Descended).
Attribution:
Alex Palman Photo by Clayton Garbes
UUID:
d9f3ffc2-10bf-4cb2-9349-fbc11f4ec8a5