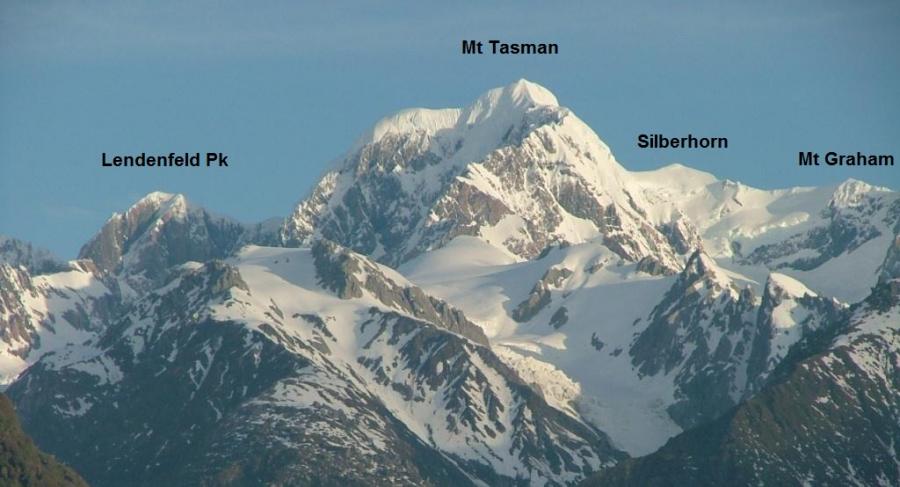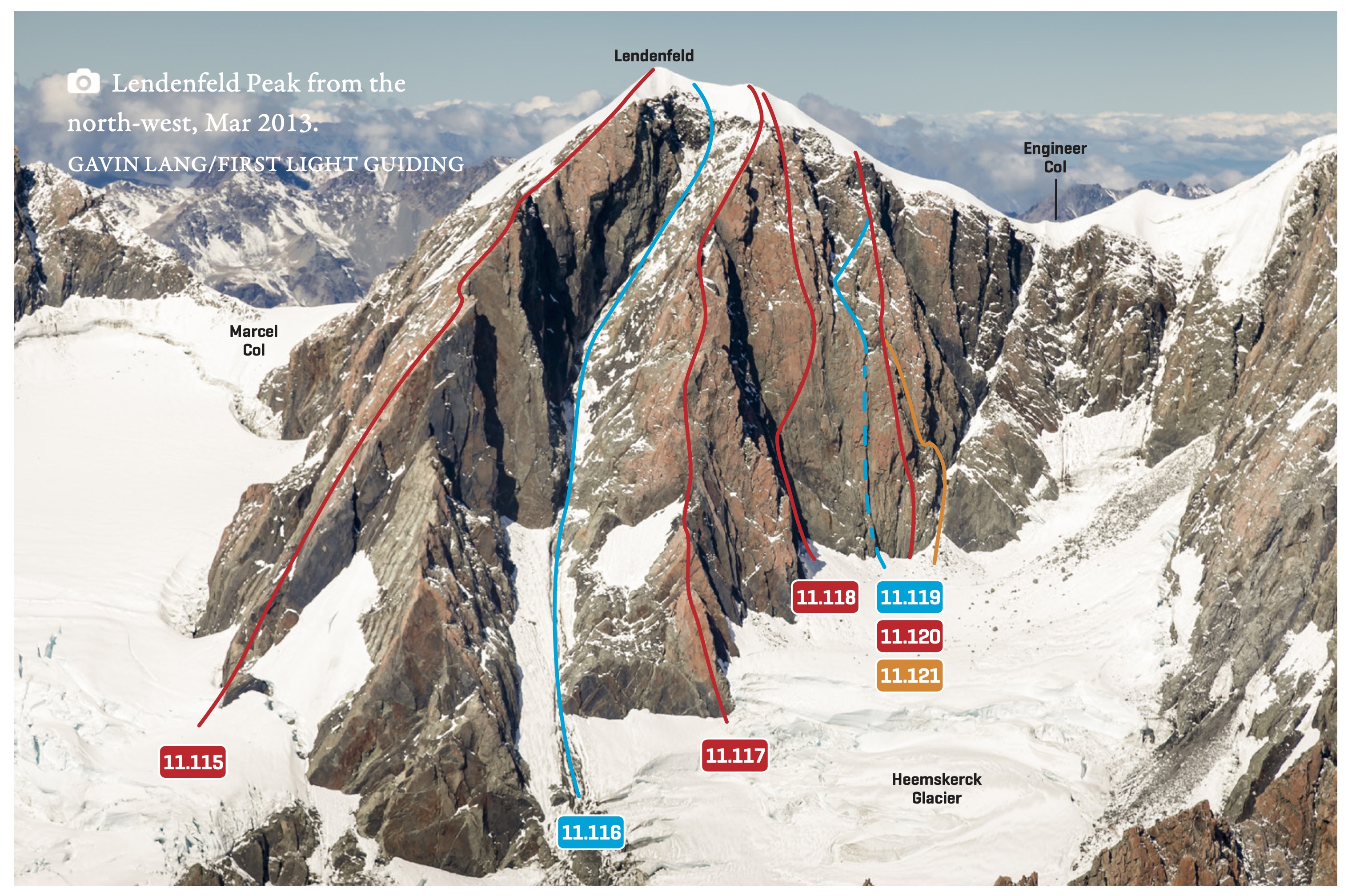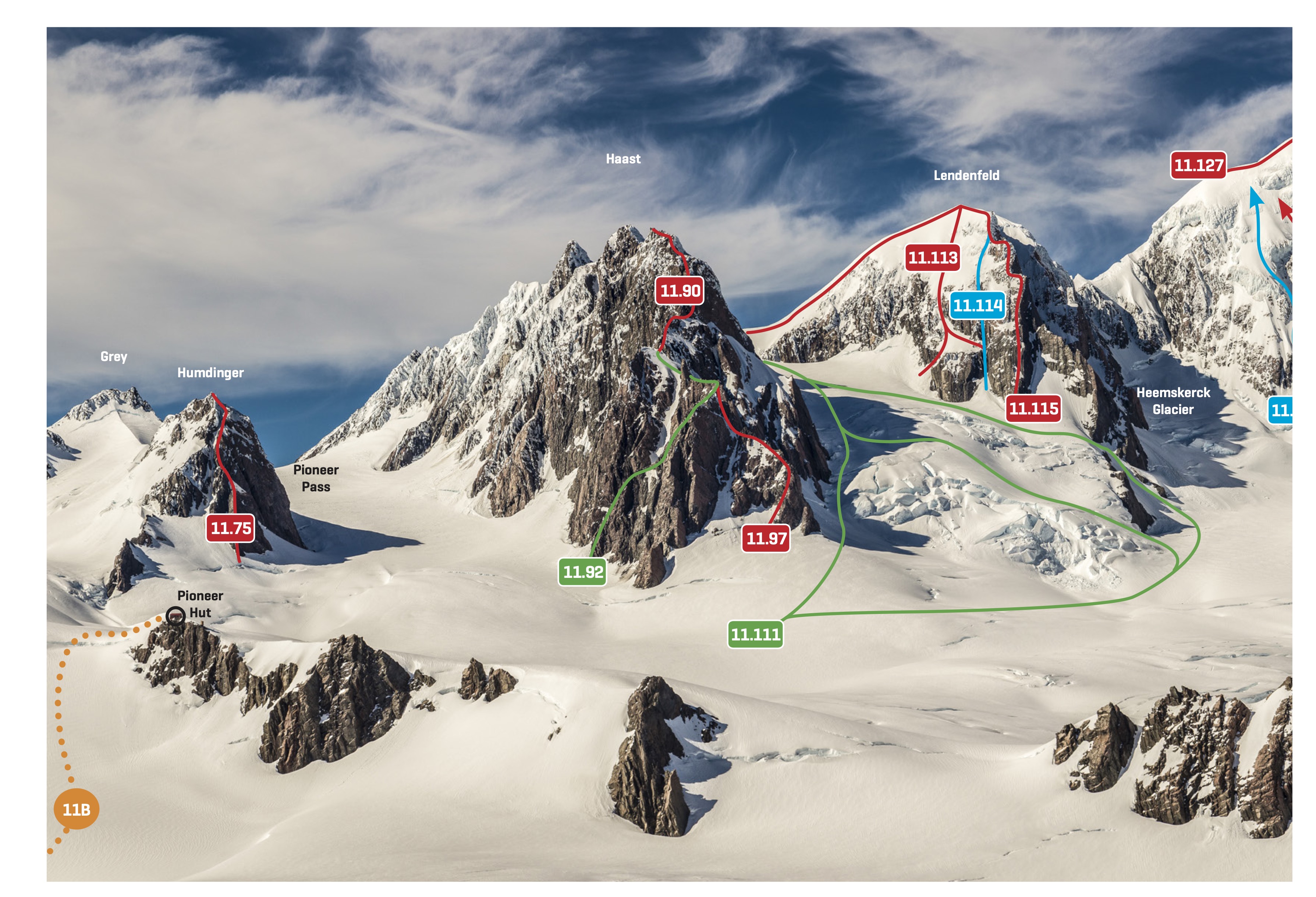 Reference
Title
Grade
Length
Quality
Bolts
Gone
Natural pro
Link to edit content
East Face
3+

From the névé between Syme Ridge and Mt Dixon climb directly to the summit detouring where icecliffs dictate.

(Possibly) Rob Rainsbury, Dick Strong, Keith Thompson, John Visser, Dec 1970.

11.112
From Marcel Col
III 2 2

From Marcel Col, the route is straightforward on moderate snow slopes, although hard ice can form easily here, especially in winter. You'll also find good evidence of climate change here: a large gap is starting to form about halfway up the ridge and soon we may see exposed rock, which will make this route more difficult. A sad sign of the times. This is the most common way to access Engineer Col and the North Shoulder of Tasman. It's also the recommended descent route, but beware of the cornice that sometimes form on the summit of Lendenfeld.

Alex Graham, Henry Newton, Feb 1907.

11.113
Aurora Australis
III 3 3

Gain the large snow shelf left of Hamilton-Berry Rib by a short rock/mixed step. Ascend to the top left end of the snow shelf through a mixed gully to the summit ice cap.

Andrew McAuley, Andrew Corvini, Feb 1992.

11.114
North Gully
III 3+

Follow the chimney immediately left of Hamilton-Berry Rib, or mixed ground either side of the gully. Six rope lengths to the snowfield.

Stuart Hollaway, Alison Thompson, Jan 2005

11.115
Hamilton-Berry Rib
III 4 3+

The bottom 200m provides steep, sound climbing up to grade 14. The rib then slowly relents to form a 'Giant's Staircase'. A good, classic route.

Alan Berry, Neil Hamilton, Dec 1955.

Midsummer Muntaneering
III 3+ 4+ 15
2

Probable new route between Hamilton Berry rib and NW rib. This rock route takes the right hand visual profile as seen from Pioneer Hut. Start up snow just left of bottom of rib and cut onto rock at any convenience. Follow the rib traversing along pinnacles, chevals, loose sections, until the obvious black triangular wall is attained. Then traverse a rising ledge/ramp up the black wall from left to right. Finish straight up wide cracks or shallow chimney (crux 15). The route then merges with the upper section of the Hamilton Berry rib. This is a challenging and interesting mountaineering route which requires some care, however it is not technical rock climb.

Peter Dickson, Lisa Wynne. December 2011

11.116
North West Couloir
III 3 3

Up the snow and ice gully between the two rock buttresses. This route may lack snow/ice later in summer, making rockfall almost constant.

Merv English, Peter Hillary, Nena Ritchie, Jul 1978.

11.117
North West Rib
III 4 3+

Parallels the Hamilton-Berry Rib, with good climbing on slabs and ribs of excellent rock.

Dave Bamford, John Nankervis, Feb 1977.

11.118
Adventure Philosophy
IV 4+

Start up the gully on the left-hand side of the face until a ramp system is reached. Follow the ramp right until near the middle, then climb straight up to the summit. A few grade 13-14 pitches.

11.119
The Mutant
IV 6 6+

This is the striking five pitch chimney in the middle of the face. In summer this is a great rock climb on a sunny face; in winter and spring it provides classic mixed and ice climbing with good rock protection. The second ascent team used a small amount of aid on the crux pitch, due to melting ice. From the top of the chimney, five more pitches take you to the summit. 9 pitches. Tim Robinson, Allan Uren, Julian White, Nov 2007

F.A John McCartney, Andy McFarlane, summer 1995

11.120
West Face Direct
IV 5+ 4 16

A hard climb on excellent rock (sustained grade 15-16), commencing to the right of The Mutant chimney. 'Similar to, but harder than the South Face of Hicks' – Ken Hyslop.

Lindsay Bell, Don Bogie and Ken Hyslop

11.121
Allen-Williams

Head up the gully to the right of Route 11.120 until you can access a line that leads to a ledge system through the prominent arête. Once on the face proper, continue up two more pitches to join Route 11.120.

John Allen, Zane Williams, Nov 1978

11.122
South West Ridge
III 2 2

This ridge is usually used when traversing Lendenfeld en route to Tasman. Between the summit and the col the ridge is straightforward. Glacier access can sometimes become cut off.

Alex Graham, Henry Newton, Feb 1907 (Descended).
Attribution:
Alex Palman Photo by Clayton Garbes
UUID:
d9f3ffc2-10bf-4cb2-9349-fbc11f4ec8a5