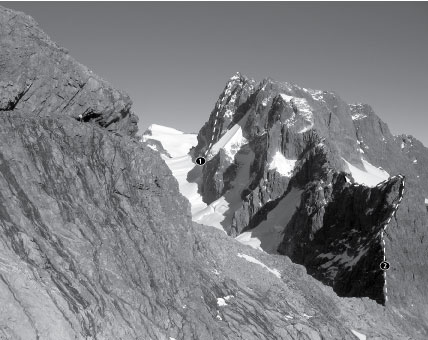 Reference
Title
Grade
Length
Quality
Bolts
Gone
Natural pro
Link to edit content
It's All Gone Biltong
20,22
60m

Below the first knob on Patuki's East Ridge is an attractive looking arete of red rock.

#
Ewbank
Alpine (Technical)
Alpine (Commitment)
Alpine (Mt Cook)
Aid
Water Ice
Mixed
Boulder (Hueco)
Length
Bolts
Trad
1
20
40

m

Yes

Scramble up from the left to belay. Climb rightwards into a short corner at the base of the arete. Up this and on to the arete proper.

2
22
20

m

Yes

Puff your way over the nose.

Rich Turner, Rich Thomson, Dave Vass

East Ridge

Easy and loose.

Ian Cave, Mike Gill, Dave Nichols, 1962.

North Ridge

The party accessed the route via the Taoka Icefall, and descended the couloir on the North East Face to make the first traverse.

Bill Gordon, Ralph Miller, December 1955

South West Ridge

The first ascent party accessed the ridge from the Taoka Icefall.

Lloyd Warburton, Gerry Hall-Jones, Dec 1955.
UUID:
1a6aca60-fe4a-49d4-b5fb-a1c95fed15ff