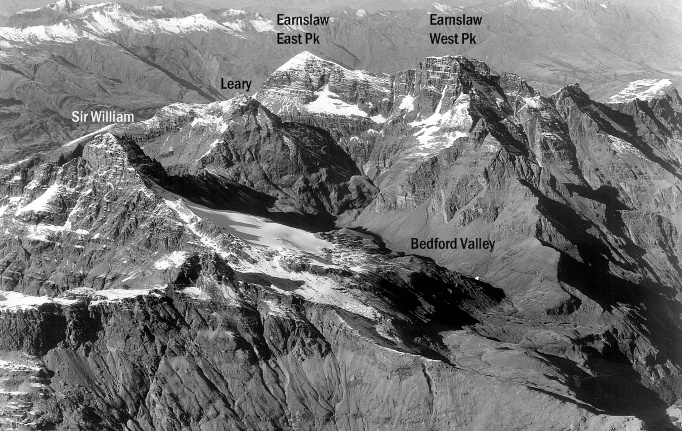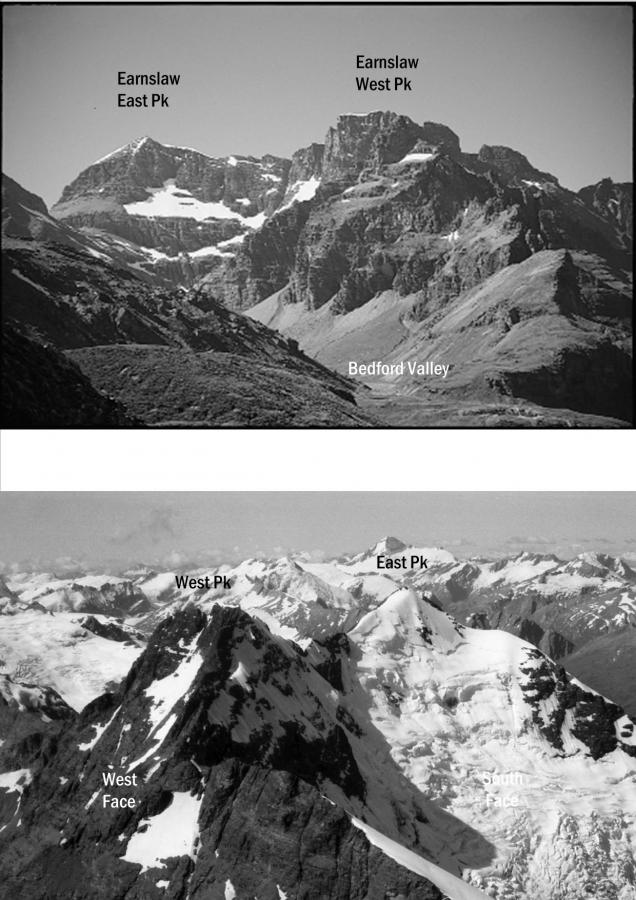 Reference
Title
Grade
Length
Quality
Bolts
Gone
Natural pro
Link to edit content
From Wright Col.
II 1

Scramble up through lower bluffs and slightly right up through scree slopes until ledge sloping steeply up to the left or a gully straight above give access through the main bluffs to the final easy slopes. Many variations are possible on the bluffs.

H. Birley, M. Ross, K Ross 1892.

East Face.
II 1

Traverse on to the Birley Glacier from Wright Col and then ascend directly to the main ridge.

H. Birley, 16 March 1890.

South East Ridge.
II 2

From Wright Col traverse round the Birley Glacier and snowfields to the south-east ridge. Alternatively, from the bivvy at E40 488 108 on the ridge to Esquilant Bivvy, gain the snowfields on the glacier under the East Peak and drop down to the col north of Black Peak. An alternative route is to gain the South East Ridge higher up above a prominent rocky buttress sticking out of the glacier. From Lennox Pass or the route from the Kea Basin track to Lennox Pass, gain ledges under and east of Peak 2026 at 1650m, then sidle right to the ridge leading to Black Peak. Traverse Black Peak and descend to the col. Traverse snow slopes on eastern side of ridge crest until regaining ridge. The route over Black Peak requires caution because of very loose rock. Alternatively, sidle round on the snowfields on the south side of Black Peak to gain the col and the south-east ridge

L.M. Earle 1909.

West Ridge (traverse from the West Peak).
II 2

From West Peak, travel either on snow or rock along the ridge joining the peaks, passing the gendarme on the north face. An alternative is to use the steep rotten gully leading to the col between the peaks (see the Leader Route ), which is accessible from the scree slopes leading round from Wright Col.

South Face
II 2

From Wright Col traverse round the Glacier and snowfields to gain the South Face.
Attribution:
Allen Uren & John Cocks. Photos, Brain Wilkins & Lloyd Homer GNS Science.
UUID:
eacdbb15-1e6a-4732-aae1-fe034cb45ded