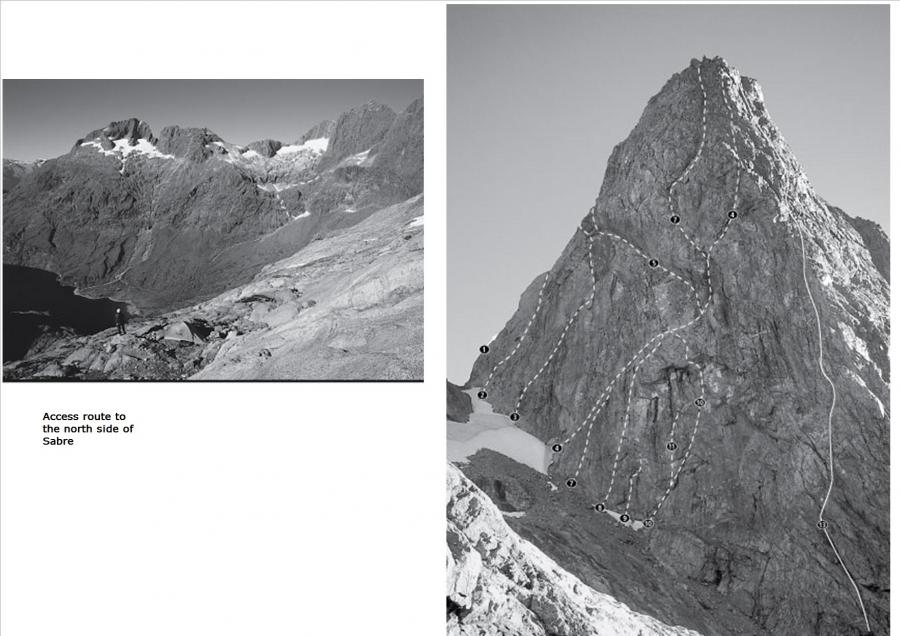 Reference
Title
Grade
Length
Quality
Bolts
Gone
Natural pro
Link to edit content
1
East Ridge

From the Sabre Adelaide Col traverse 5m left then climb a steep pitch onto the ridge. Move right up a slab to a short chimney and groove above. From this point the ridge may be climbed directly, or follow easier broken ledges slanting right towards the top of the North Buttress and up the broken ridge to the top.

Bill Gordon, Bryce Wood, Dal Ryan, Dec, 1954.

West Ridge

The ridge rises in two steps from the Marian Sabre Col; these are usually climbed on the right (south) side. Near the summit the ridge is cut by a deep notch but this can be by-passed via ledges on the north side.

Phil Houghton, Mike Gill, Feb 1959.

West Ridge (Winter Ascent)

The west ridge was accessed via the north-west face, five pitches to the ridge then exposed travel to the summit. The summit was reached in a long day from Homer Hut, with a bivvy at the Sabre Marian col on descent.

Merv English (solo), July 1977.
UUID:
f89dbe38-0310-433e-b996-e1cd02d7cd1d