Central Crags includes the following walls...
-Twin Cracks
- Crucifix Wall
- The Gully
- Revenge of the Podge Wall
- Drug Abuse Wall
- Lunar Wall
Access:
From the main parking area follow the track as for the Red arete then after crossing the dry riverbed veer left and follow your nose. The obvious feature is the large scree at the base . The Central Gully being the obvious gully rising from the apex of the scree.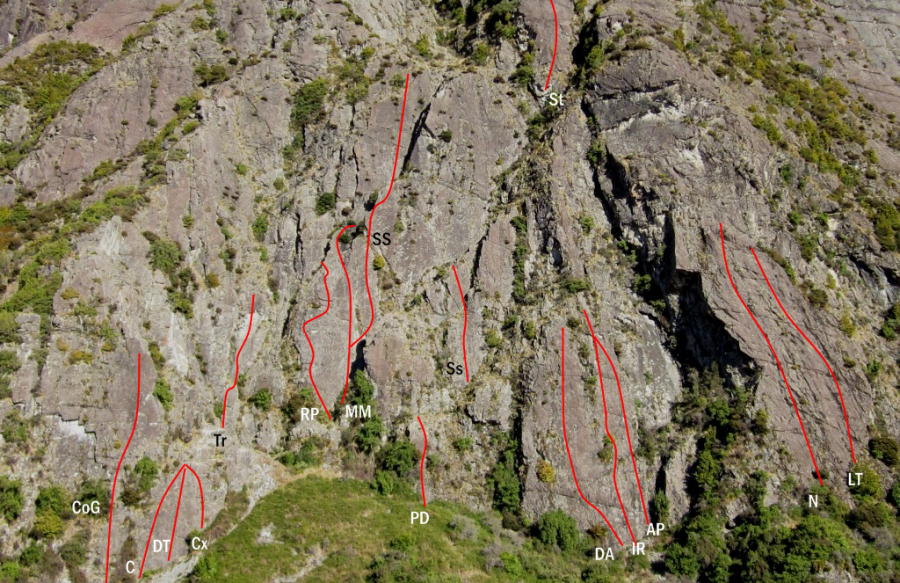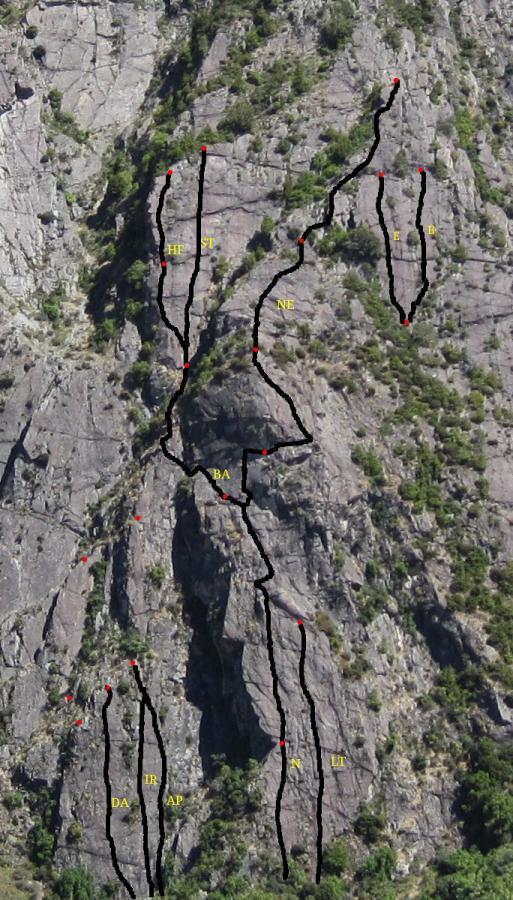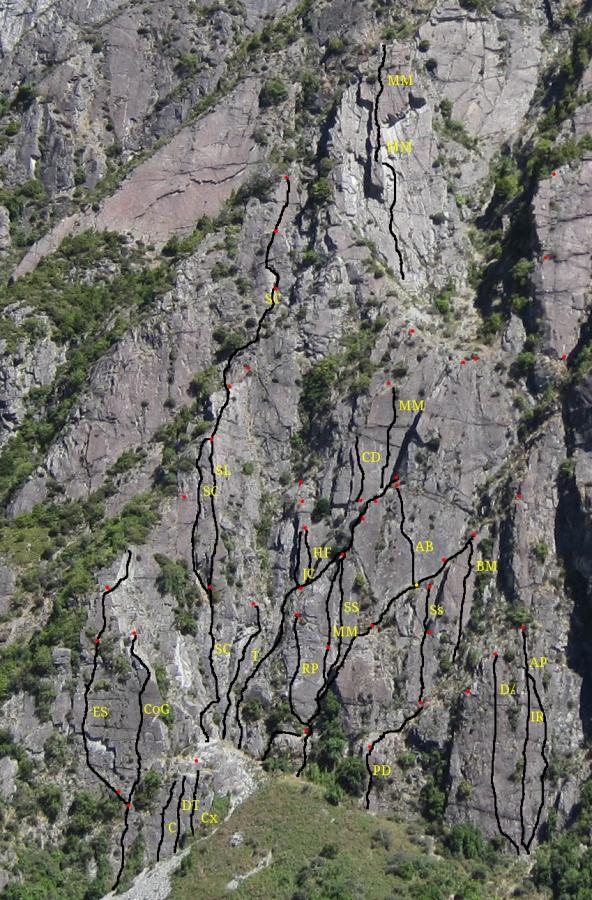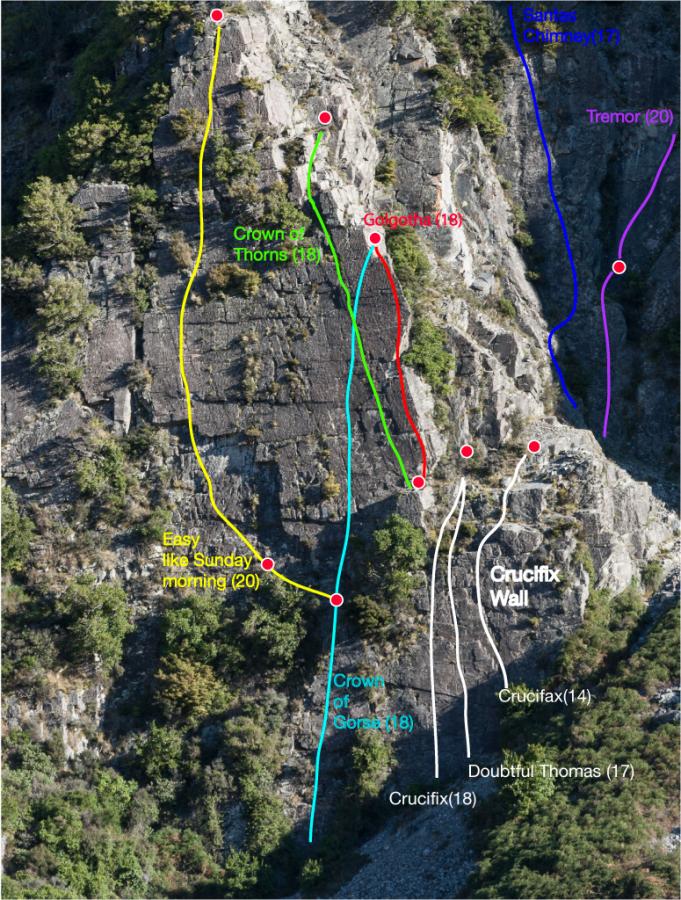 Reference
Title
Grade
Length
Quality
Bolts
Gone
Natural pro
Edit link
RP
Revenge of the Podge
21
37m
8

There is a small ledge to the R of the Central Gully at the top of the scree. It can be accessed from either the left end or front R. Magic Messiah and Revenge of the Podge start from this ledge. Start to the left of MM, beware of loose rock at the top on the easy section.

Brent Shears,1999

SS
A Slovakian Nightmare
24
25m
8

From the top of the first pitch of MM head right and up pink slab. Long moves on good holds lead to a thin and technical crux. Finish left to the second belay of MM.

Cory Green 2008

Thank God for Little Trees
15

A long, alpine style route with 11 pitches. Start at the Gully (at the top of the scree). Climb the gully for the first three pitches to reach and then climb the ridge to the top.

Warren Bryson, Tony Corkery

T
Tremor
20 ,21
30m
9

A technical climb that leads up a slab and onto an overhang at the finish. Start on a ledge at the top of the scree.

#
Ewbank
Alpine (Technical)
Alpine (Commitment)
Alpine (Mt Cook)
Aid
Water Ice
Mixed
Boulder (Hueco)
Length
Bolts
Trad
1
20
10

m

4
No
Climb up bolted slab to a sound ledge.
2
21
20

m

5
Yes
Climb straight up the smooth wall, moving rightwards up and through the overhangs.

Brent Shears, 1999

MM
Magic Messiah
14,19,14,20,2,17,14
220m
15
1

A varied climb with some of the best crack climbing in the area. Start from the Revenge of the Podge ledge and head straight up from the anchor. The first four pitches are worthwhile after which the rock quality deteriorates markedly.

#
Ewbank
Alpine (Technical)
Alpine (Commitment)
Alpine (Mt Cook)
Aid
Water Ice
Mixed
Boulder (Hueco)
Length
Bolts
Trad
1
14
25

m

5
No
Head straight up bolted slab and vegetated corner. Climb hanging corner to belay ledge.
2
19
25

m

3
Yes
Climb past bolts and into left hand crack on natural pro to the anchors on a sloping ledge.
3
14
20

m

5
Yes
Follow bolts up sloping vegetated corner and around to the right of a big tree to a large ledge and a stance below a steep slab.
4
20
25

m

2
Yes
Climb past 2 bolts then up steep slab on natural pro, turning several overlaps along the way.
5
2
50

m

Yes
Scamble up the edge of the scree to the upper wall, beneath a prominent pillar.
6
17
45

m

Yes
Climb poorly protected, flaky rock to the base of a pillar. Gain the pillar from the right side.
7
14
30

m

Yes
Climb easily in an amazing position. Some fixed pro and a fixed sling for abseil.

Peter Dickson, Jo Kippax, Alex Palman, 1991

PD
Poison Dwarf
20
12m
4

Start at the right-hand side of the Gully (from the ground) and climb a narrow, brushed wall.

Kylie Wakelin, 1999

Ss
Seamstress
18 ,19
20m
6

From the ledge at the top of Poison Dwarf, to the right.

#
Ewbank
Alpine (Technical)
Alpine (Commitment)
Alpine (Mt Cook)
Aid
Water Ice
Mixed
Boulder (Hueco)
Length
Bolts
Trad
1
18
10

m

3
Yes
From the ledge at the top of Poison Dwarf, to the right.
2
19
10

m

3
No
Technical climbing on sound rock.

Kylie Waklin

SC
Santa's Chimney
17,17,14
100m
13

Start at the top of the scree right of Crucifix, 5m left of Tremor. Needs some large cams for the offwidth section. Offwidth full of trees and unclimbable as of January 2019

#
Ewbank
Alpine (Technical)
Alpine (Commitment)
Alpine (Mt Cook)
Aid
Water Ice
Mixed
Boulder (Hueco)
Length
Bolts
Trad
1
17
30

m

9
Yes
Start at the top of the scree right of Crucifix 4m left of Tremor. Up to small ledge and right to a step down. Up the left line to belay in a big niche.
2
17
30

m

2
Yes
Out left onto the arete passing 2 bushes to the wide crack. This is 120 - 130 cm and takes camelot size 4 -4.5 for 10 m the slightly smaller gear.
3
14
40

m

2
Yes
Easy slabs to scree and up easy rock step to base of upper wall

John Hamilton, Murray Judge Dec 2012

SL
Slipstream
17
45m
9

Climb pitch 1 on Santa's Chimney then out right and climb R of the blunt arete (an older Mal Haskins project?) , 2 bolts when you leave the niche , small cams and wires with 7 bolts higher up.

Murray Judge, Feb 2013

The Frozen Pickle
20
20m
9

From the top of P1 of Santas Chimney climb line of bolts left of the vegetated off with ( Santa's Chimney). Thin moves through overlap to a technical finish.

Lewis Ainsworth 2019

JC
Jagged Crack
17

Directly above Revenge of the Podge. A smooth jamming crack with bridging.

Murray Judge Feb 2013

HF
Hairline to Forty
23

A fine crack needing thin wires and small cams.

Rob Connolly Feb 2013

Crafty Devil
16

Further up the wall, the hand crack left of the third pitch of Magic Messiah, small to large cams.

Murray Judge Feb 2013

AB
Angels Buttress
19
3

Starts off the ledge at the top of Seamstress, face climbing on small gear.

Rob Connolly Feb 2013

BM
Bonsai Master
18
29m
5

Steep slab to a crack at half height 5 bolts then small to med cams and wires. Avoid the loose flake on the right near the start

Murray and Bronwyn Judge March 13
Attribution:
Photos. Clayton Garbes. RHS Jeremy Smit Crucifix topo Simon Middlemass