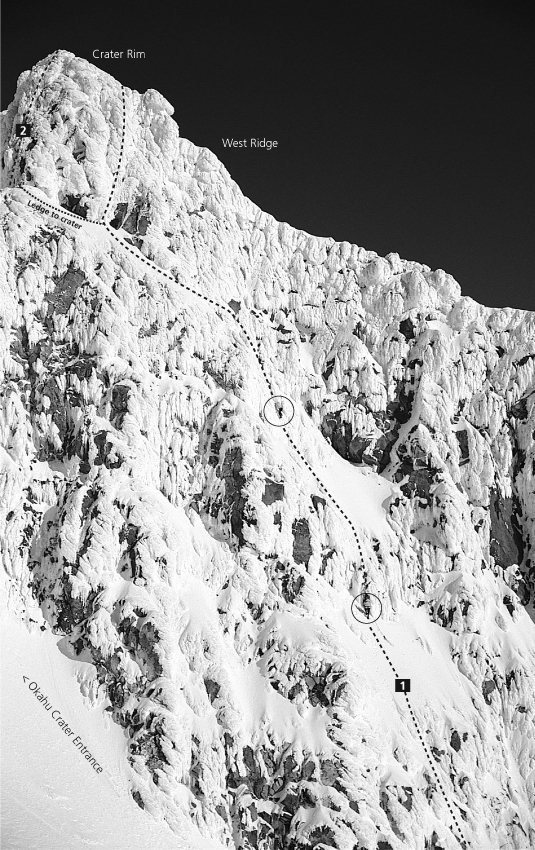 Reference
Title
Grade
Length
Quality
Bolts
Gone
Natural pro
Link to edit content
2
Headbanger
WI5

Follow the obvious rib heading from the Okahu Gorge to the start of the level section of the West Ridge/south crater rim in two pitches. The first contains a bulge at one-third height, the second is the crux. On the fist ascent a groove was entered to the left after an attempt at a direct finish resulted in a large lump of falling ice and a broken hard-hat. The route can be walked off at half-height.

Iain Young, Gger Banks and Alec Heilbron, Oct. 1996.

1
Telephone Line
WI3

While not the hardest ice line on Mt Taranaki it is certainly one of the longest and most atmospheric. Snow and ice stability on this north facing cliff are very fickle—best when conditions are lean. From the crater entrance to the Okahu Gorge, descend the gorge, close to West Ridge for about 70m. Iced grooves lead you to larger snow and ice ramps above, surmount the mid cliff to the left. Climb the next ramp, then follow a narrowing steep ramp that takes you left to Headbanger Ledge. The steep upper cliff can be climbed direct to the top of west ridge, or if not in condition, follow HB ledge into the crater.

Iain Young, Dave Bolger. Winter 1998.
UUID:
44dc00e6-1827-472c-b558-8862cf3b13af