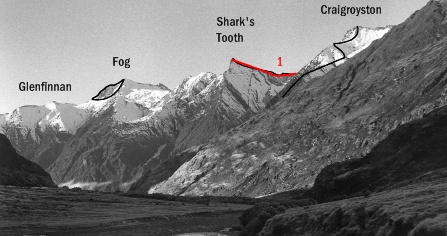 Reference
Title
Grade
Length
Quality
Bolts
Gone
Natural pro
Link to edit content
1
South West Ridge
I 2

Climb to the col on the Shotover-Matukituki divide. An easy tussock and rock ridge, with snow on its south side, leads north east from the col to the final rock pyramid, which is normally climbed by the moderately steep, rather loose slabs of the West Face or the rocks of the South Ridge. Five or six hours are required from Raspberry Flat to the summit.

waBob Craigie, Phil Cook, Roland Rodda, Scott Gilkison, 19 December 1939
Attribution:
Allan Uren & John Cocks. Photo DG Bishop.
UUID:
708f180d-382a-443a-a36d-37bf7796248b