The Mate's Little Brother contains some of the best free routes in the Darran region. The Half Dome-shaped Little Brother is 180m high and the rock clean and coarse.
Access:
To access these routes, follow the scree slope below Moir's Mate round to narrow ledges (try not to lose too much height) which traverse along the base of the wall.
Descent of the Mate's Little Brother
By far the easiest option is to rap your route. Otherwise it is possible to walk down the true left of the Little Brother to the Cleddau ledges. In early summer the snow basins can be full, making descent down the true left both difficult and dangerous. An alternative route lies over a col beyond the Moir's Mate and down the northern slabs to the Homer Saddle ridge.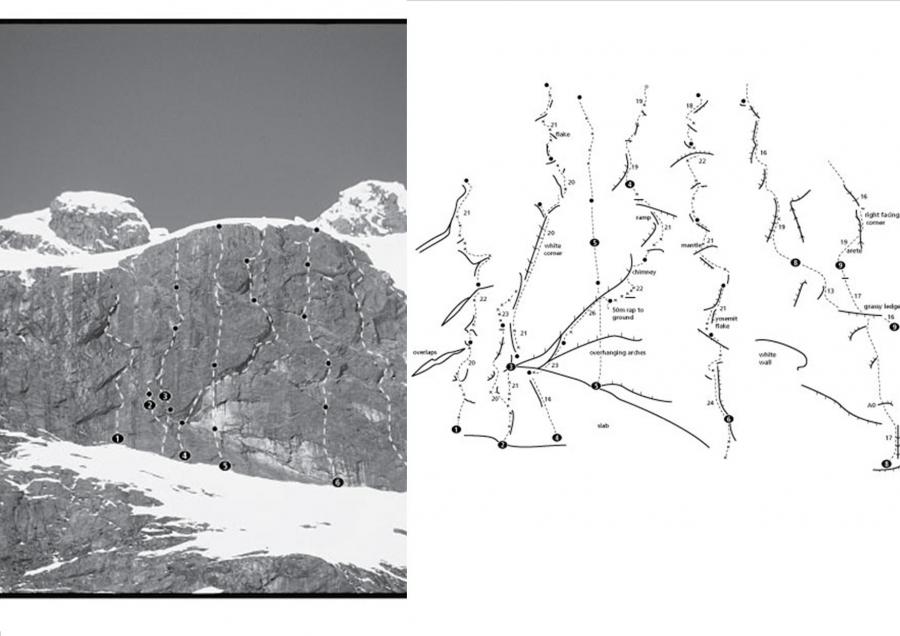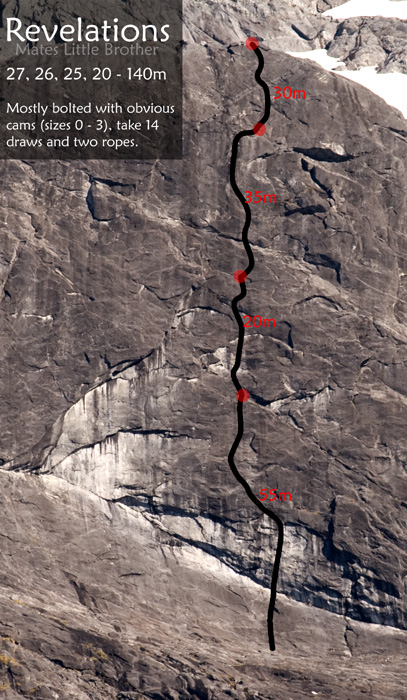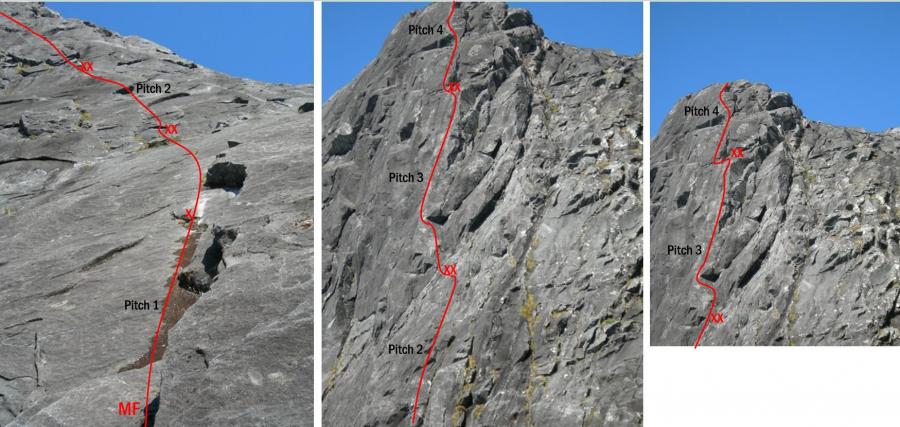 Reference
Title
Grade
Length
Quality
Bolts
Gone
Natural pro
Link to edit content
Where's My Epirb?
18,21,21,21

On the left side of the Mate's Little Brother.

#
Ewbank
Alpine (Technical)
Alpine (Commitment)
Alpine (Mt Cook)
Aid
Water Ice
Mixed
Boulder (Hueco)
Length
Bolts
Trad
1
18
0

m

No
2
21
0

m

No
3
21
0

m

No
4
21
0

m

No

Murray Ball, Nick Cradock, Glen Einam, 2008

1
The Milford Cruise
22
1

Three pitches. 20, 22, 21. An excellent and sustained route through three overlaps; the route avoids much of the water-streak, staying right through the overlaps.

Murray Judge, Paul Rogers, Feb 1989.

2
Brothers in Arms
20 , 23 , 21 , 21
150m

Starting on slabs left of the arches, move up past some bolts then step right and into obvious crack.

#
Ewbank
Alpine (Technical)
Alpine (Commitment)
Alpine (Mt Cook)
Aid
Water Ice
Mixed
Boulder (Hueco)
Length
Bolts
Trad
1
20
45

m

Yes

Starting on slabs left of the arches, move up past some bolts then step right and into obvious crack.

2
23
45

m

Yes

Sustained moves left of the belay then move right into the white leaning corner – a 25m, grade 20 overhanging jug-fest. Belay out left.

3
21
30

m

Yes

Step right from belay, climbing right trending crack to bolt on face above. Step right then continue up and left through cracks past bolt to belay.

4
21
30

m

Yes

Straight up corner passing a bolt to the butterfly flake. Two bolts lead to a long reach left then up and over the Mate's Little Brother.

Murray Judge, Paul Rogers, Mar 1989.

3
Cradock's Retreat
21 , 21
80m

Climb steep slabs and small left facing crack, passing a number of bolts. The crux bolt has been replaced. Climb through a small roof to bolt belay.

#
Ewbank
Alpine (Technical)
Alpine (Commitment)
Alpine (Mt Cook)
Aid
Water Ice
Mixed
Boulder (Hueco)
Length
Bolts
Trad
1
21
35

m

Yes

Climb steep slabs and small left facing crack, passing a number of bolts. The crux bolt has been replaced. Climb through a small roof to bolt belay.

2
21
45

m

Yes

From belay climb left into the shallow corner, passing two bolts before steep cracks lead to the big white corner of Brothers in Arms. Continue up corner to belay.

Guy Cotter, Nick Cradock, February 1989

4
Second Coming
16 , 23 , 26 , 22 , 21 , 19 , 19
122m

Easy-going slab takes you to the base of the overhanging arches.

#
Ewbank
Alpine (Technical)
Alpine (Commitment)
Alpine (Mt Cook)
Aid
Water Ice
Mixed
Boulder (Hueco)
Length
Bolts
Trad
1
16
25

m

Yes

Easy-going slab takes you to the base of the overhanging arches.

2
23
9

m

Yes

The dihedral requires wide bridging and lay-backing on fingertips with protection from small wires.

3
26
10

m

Yes

Hard moves up corner 'til crack opens out to underclings. Take big Friends #4.

4
22
8

m

Yes

Move past three old bolt ladder bolts, then traverse over to the newer bolts cutting back into flake/chimney system.

5
21
15

m

Yes

Up right, then back left following ramp to single bolt and natural belay.

6
19
25

m

Yes

Move through big corner past black rock band to belay in horizontal break.

7
19
30

m

Yes

Straight up, moving out right to bolt then a lengthy stretch of steep slab climbing with no protection over the Little Brother. A trouser-filling top-out!

Paul Aubrey, Mark Moorhead, Feb 1980.

5
Armageddon
22 ,28 ,28 ,26
95m
20

#
Ewbank
Alpine (Technical)
Alpine (Commitment)
Alpine (Mt Cook)
Aid
Water Ice
Mixed
Boulder (Hueco)
Length
Bolts
Trad
1
22
20

m

3
Yes
2
28
25

m

8
Yes
3
28
20

m

4
Yes
4
26
30

m

5
Yes

Derek Thatcher, 2007

Revelations
27 , 26 , 25 , 20
140m
19

Mostly bolted with obvious cams (sizes 0-3). Take 14 quickdraws and two ropes. Descent is by abseiling the route.

#
Ewbank
Alpine (Technical)
Alpine (Commitment)
Alpine (Mt Cook)
Aid
Water Ice
Mixed
Boulder (Hueco)
Length
Bolts
Trad
1
27
55

m

8
Yes
2
26
20

m

4
Yes
3
25
35

m

4
Yes
4
20
30

m

3
Yes

Derek Thatcher, Jamie Vinton-Boot, 2008

6
New Jersey Drifter
24 , 21 , 21 , 22 , 18
145m

Staunch moves off the belay lead to more staunch moves through an undercling layback before continuing up corner and face to belay.

#
Ewbank
Alpine (Technical)
Alpine (Commitment)
Alpine (Mt Cook)
Aid
Water Ice
Mixed
Boulder (Hueco)
Length
Bolts
Trad
1
24
40

m

Yes

Staunch moves off the belay lead to more staunch moves through an undercling layback before continuing up corner and face to belay.

2
21
20

m

Yes

Dynamic face moves past two bolts lead into the Yosemite Flake and steep jug-filled corner.

3
21
30

m

Yes

Move right off belay then up past a bolt before trending left along ramp to overlap and bolt. A healthy rock-over leads onto a slab. Continue up and right to bolt then left to belay.

4
22
35

m

Yes

Cranky moves lead up and left off belay past two bolts then right under overlap. Continue up and left to bolt under second overlap. Traverse right on underclings, clipping bolt on face above before pulling roof to belay.

5
18
20

m

Yes

Head up and right on slab, then mantle onto sloping ledge. From bolt on wall move left into black and white vein which trends right to exit at the top of the crag.
Three full 60m abseils to reach the ground from the top anchors.

Kester Brown, Craig Jefferies, Jan 2006.

Gough-Wayatt

On the right side of the Little Brother start off the broken slabs further round to the ledges. Seven pitches. Five pitches of aid, two of free-climbing. Tends up and left towards a small roof near the top of the face.

Peter Gough, Geoff Wayatt, 1974.

8
Crystal Void
19

On the right side of the Little Brother start off the broken slabs further round to the ledges. Four pitches. 17, 13, 19, 16. Follow a corner into left-tending ramps before heading straight up over the right side of the Mate's Little Brother.

Hugh Widdowson, 1989.

9
Crystal Meth
19

On the right side of the Little Brother start off the broken slabs further round to the ledges. Four pitches. 16, 17, 19, 16. Starting from slabs on the right side of the wall, follow ledge systems up and left. The route moves through a series of cracks leading into a lone right-facing corner on the edge of the Mate's Little Brother.

Brigid Allan, Steve Eastwood, Craig Jefferies, Feb 2003.

MF
Mechanical Failure
18 ,20 ,23 ,18
21

Start at the RHS of the crag, right of the arch and after beginning the scramble up to the Moir ledges. About 15m up above the ledges and back left a bit a bolt and a maililon by a left facing corner mark the start of the climbing. The climb needs cams 00 - 3 (Camalots) and a few wires. Route is rigged to rap. Follow left facing corner then break left to flakes and cracks to a grassy ledge. DBA

#
Ewbank
Alpine (Technical)
Alpine (Commitment)
Alpine (Mt Cook)
Aid
Water Ice
Mixed
Boulder (Hueco)
Length
Bolts
Trad
1
18
0

m

4
Yes

Start at the RHS of the crag, right of the arch and after beginning the scramble up to the Moir ledges. About 15m up above the ledges and back left a bit a bolt and a maililon by a left facing corner mark the start of the climbing. The climb needs cams 00 - 3 (Camalots) and a few wires. Route is rigged to rap.
Follow left facing corner then break left to flakes and cracks to a grassy ledge. DBA

2
20
0

m

6
Yes

Gain the slanting slab and follow it to an overlap, over this to another slab. DBA

3
23
0

m

7
Yes

Up obvious corner, exit it at bolt to arete on left. Climb this to steep blank wall. Desperate move to gain groove and wall system. Ledge with DBA

4
18
0

m

4
Yes

Pull onto arete up to ledge and then move left on slab to finish up arete. DBA

John Entwisle, Chris Burtenshaw and Jonathan Clearwater Feb 2010
UUID:
0184bbcf-dc03-4d7d-addc-2cf3836987e8