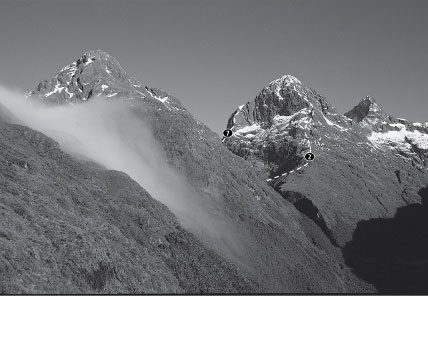 Reference
Title
Grade
Length
Quality
Bolts
Gone
Natural pro
Link to edit content
South East Ridge
13

From the head of Mistake Creek climb the avalanche fan, sidling through bluffs to the ridge. The ridge is firm slabby rock to start, becoming more broken higher up. The route was descended via the West Ridge back into Mistake Creek.

Harold Jacobs, Sandy Macpherson, Feb 1964.

South Ridge

From the lower glacier climb slabs up towards the face, gaining a spur that leads directly to the South Ridge and summit. The climbing is quite thin on the traverse across to the foot of the spur in the centre of the face.

Austin Brookes, Paul Frude, Mar 1971.

North East Ridge

Follow the tributary through a narrow gorge towards the col at the foot of the South East Ridge. Cross the slopes below the East Face to the North East Ridge then continue to summit. The ridge can also be reached by struggling up the steep bush spur out of Falls Creek on the true left of the gorge. The original party climbed to the col from the Mistake Creek flats.

Dick Ferris, Arthur Hynd, Gordon Lindsay, Arch Smiley, April 1934.

West Ridge

Shattered rock and very loose. The party descended the North East Ridge.

Bill Gordon, David Henderson, Ralph Miller, 1960.
UUID:
1dcd5137-04d8-4903-81ad-d31ffbdfeac0