The North East Face of Barrier Knob predominantly features high quality slab climbing on very good, water-worn rock.
A pdf topo of routes on the face, and nearby Quiet Earth Slab, can be downloaded at http://www.divshare.com/download/1091491-9f4
Access:
The north-east face of Barrier Knob can be accessed in two different ways:
If you are coming directly to the face from Homer Hut or Barrier Knob it is best gained via the Barrier Knob-Barrier Peak Col. From Barrier Knob, descend to the col, and then down-climb moderate slabs to the névé at the base of the face. To get to the Quiet Earth area of the wall; either don crampons and scoot along the névé, or skirt the bottom of the neve via rolling water-worn slabs.
To access the face from the Labyrinth area of the north face; traverse east over rolling, slabby terrain and scramble over a low angle ridge/arête that divides the two faces. Gain height once on the east side of the ridge to access the Quiet Earth section of the north-east face.
Quiet Earth follows a distinctive quartz streak in the centre of the wall.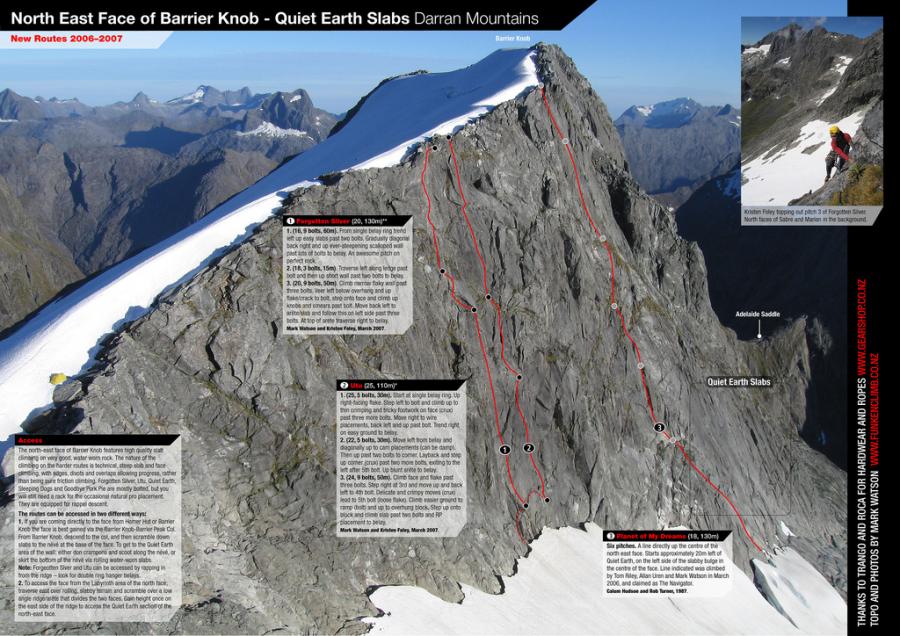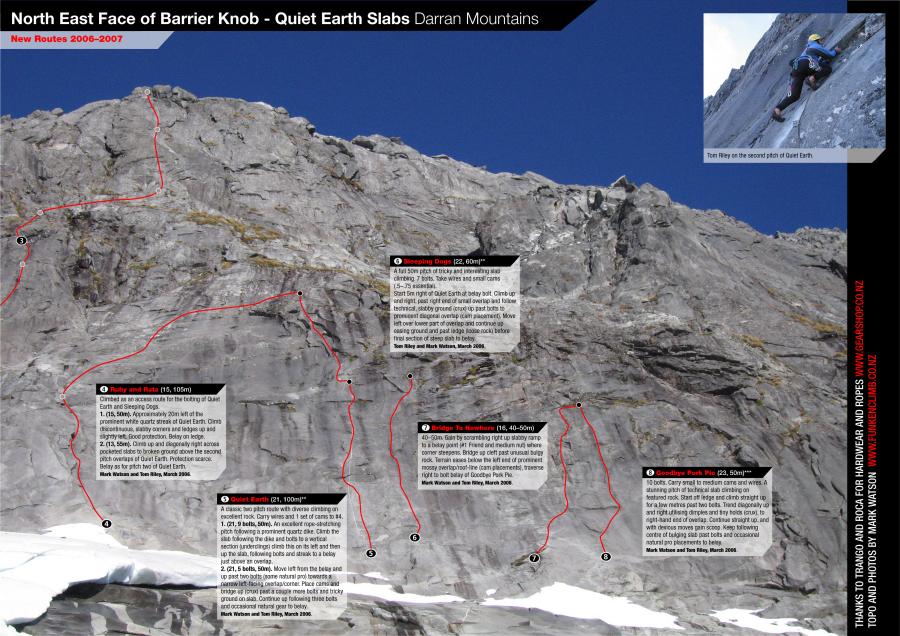 Reference
Title
Grade
Length
Quality
Bolts
Gone
Natural pro
Link to edit content
1
Forgotten Silver
16 ,18 ,20
125m
21
4

From single belay ring trend left up easy slabs past 2 bolts. Gradually diagonal back right and up ever steppening scallopped wall past lots of bolts to belay.An awsome pitch on perfect rock.

#
Ewbank
Alpine (Technical)
Alpine (Commitment)
Alpine (Mt Cook)
Aid
Water Ice
Mixed
Boulder (Hueco)
Length
Bolts
Trad
1
16
60

m

9
No

From single belay ring trend left up easy slabs past 2 bolts. Gradually diagonal back right and up ever steppening scallopped wall past lots of bolts to belay.An awsome pitch on perfect rock.

2
18
15

m

3
Yes

Traverse left along ledge past bolt, then up short wall past 2 bolts to belay.

3
20
50

m

9
No

Climb narrow flakey wall past 3 bolts. Veer left below overhang and up flake crack to bolt, step onto face, climb up smears and knobs past bolt. Move back left to slab and follow this on left hand side past 3 bolts. At top of arete traverse right to belay.

Mark Watson & Kristen Foley 2007

2
Utu
25 ,22 ,24
110m
19

Start at single belay ring. Up right facing flake. Step left to bolt and climb upto thin crimping and tricky footwork. Move right to wire placements, back left and up past bolt. Trend right on easy ground to belay.

#
Ewbank
Alpine (Technical)
Alpine (Commitment)
Alpine (Mt Cook)
Aid
Water Ice
Mixed
Boulder (Hueco)
Length
Bolts
Trad
1
25
30

m

5
Yes

Start at single belay ring. Up right facing flake. Step left to bolt and climb upto thin crimping and tricky footwork. Move right to wire placements, back left and up past bolt. Trend right on easy ground to belay.

2
22
30

m

5
Yes

Move left from belay, and diagonally up to cam placements ( can be damp). Then up past 2 bolts to corner. Layback and step up corner (crux) past 2 more bolts, exiting to the left after the 5th bolt. Up the blunt arete to belay

3
24
50

m

9
Yes

Climb up face and flake past 3 bolts. Step right at 3rd bolt and move up and back left to 4th bolt. Delicate and crimpy moves (crux) lead to the 5th bolt (Loose flake). Climb easier ground to ramp (bolt) and up to overhung rock. Step up onto block and climb slab past 2 bolts and RP placement to belay.

Mark Watson & Kristen Foley 2007

Poi E
Poi E
14,19,18,17
195m
12
3
2

A mixed protection route on the crest of a pinnacle on left side of Quiet Earth Slabs. Interesting, varied climbing with flakes, pockets, corners and slabs. Access by rappel (2x60m ropes required) or from below. To abseil, look for 2 rings on crest of pinnacle. Abseil 55m down crest, then climbers right to grassy ledge. Rap 2 - down 35m then look climbers left under small roof. Rap 3 - 57m down then climbers right to LH edge of ledge. From ground, scramble, or ~gd 14 climb up broken slabs to left hand edge of large ledge system to LHS of Quiet Earth slabs. Starts at single ring. 1 set wires, 1 set cams up to #2 camalot and 13 quickdraws, including many long extenders.

#
Ewbank
Alpine (Technical)
Alpine (Commitment)
Alpine (Mt Cook)
Aid
Water Ice
Mixed
Boulder (Hueco)
Length
Bolts
Trad
1
14
40

m

Yes

To access start of route scramble up cracks to ledge on LHS of Quiet Earth slabs. Start from single ring on far left side of ledges.

2
19
58

m

7
Yes

Traverse left, then up slabs to wall with pockets, flakes and 2 bolts. Above this angle rightwards up shallow corner. Climb next pocketed wall to 5 star jug and cut loose just for fun. Then corner and slab to 2BA.

3
18
42

m

4
Yes

Left around overhang, up cracks and walls towards steep, featured, pocketed wall above. Climb pockets up to narrow ledge, mantel and Honnold rightwards. Up and right across slab to featured flakes, climb to bolt and up to 2BA on grassy ledge.

4
17
55

m

1
Yes

Up to overhang; climb on cool jugs (1 bolt) then stick to crest of ridge for a featured and atmospheric finish.

Developed S Fortune and Ben Dare Jan 2018 and S Fortune Jan 2022. FFA: S Fortune, Olivia Truax and Sam Waetford, Jan 2022

3
Planet of My Dreams
18

Six pitches. On the slabby face just down from the col with Barrier, this route is easily reached from the Barrier Knob - Barrier Col.

Calum Hudson, Rob Turner, 1987.

The Navigator
18 , 16 , 17 , 16 , 14
220m

A direct line on the centre of the north-east face of Barrier Knob. Starts approximately 20m left of Quiet Earth on the left side and lowest point of the slabby 'bulge' in the face. . From the névé climb up to shallow horizontal overlap. Turn this at left end and climb right-trending grooves and slabs for a few metres before heading straight up to belay.

#
Ewbank
Alpine (Technical)
Alpine (Commitment)
Alpine (Mt Cook)
Aid
Water Ice
Mixed
Boulder (Hueco)
Length
Bolts
Trad
1
18
50

m

Yes

A direct line on the centre of the north-east face of Barrier Knob. Starts approximately 20m left of Quiet Earth on the left side and lowest point of the slabby 'bulge' in the face.
. From the névé climb up to shallow horizontal overlap. Turn this at left end and climb right-trending grooves and slabs for a few metres before heading straight up to belay.

2
16
40

m

Yes

Climb up slabs and into prominent left-facing corner. Up this to a large belay bollard and ledge.

3
17
60

m

Yes

Climb beautiful textured rock up shallow corner on plllar, to below mossy corner. Step left and up through steepening to easy ground. Belay in crack.

4
16
50

m

No

Climb right side of wall up featured, flaky rock (loose in places) to a belay.

5
14
20

m

Yes

Head left and then up final part of headwall, aiming for two prominent blocks on the ridge. Belay amongst blocks on ridgeline.

Tom Riley, Mark Watson, Allan Uren, March 2006.

4
Ruby and Rata
15 , 13
105m

Climbed as an access route for the bolting of Quiet Earth and Sleeping Dogs. Approximately 20m left of the prominent white quartz streak of Quiet Earth. Climb discontinuous, slabby corners and ledges up and slightly left. Good protection. Belay on ledge.

#
Ewbank
Alpine (Technical)
Alpine (Commitment)
Alpine (Mt Cook)
Aid
Water Ice
Mixed
Boulder (Hueco)
Length
Bolts
Trad
1
15
50

m

Yes

Climbed as an access route for the bolting of Quiet Earth and Sleeping Dogs.
Approximately 20m left of the prominent white quartz streak of Quiet Earth. Climb discontinuous, slabby corners and ledges up and slightly left. Good protection. Belay on ledge.

2
13
55

m

Yes

Climb up and diagonally right across pocky slabs to broken ground above the second pitch overlaps of Quiet Earth. Pro scarce. Belay as for pitch two of Quiet Earth.

Mark Watson, Tom Riley, March 2006.

5
The Quiet Earth
21,21
100m
14

A classic two pitch route with diverse climbing on excellent rock. Carry wires and 1 set of cams to #4. An excellent rope-stretching pitch following a prominent quartz streak. Start on the right side of the streak and follow the bolts, crossing to the left side of the streak below the steepening. Climb the vertical section (underclings) on its left and then up the slab, following bolts and streak to a belay just above an overlap.

#
Ewbank
Alpine (Technical)
Alpine (Commitment)
Alpine (Mt Cook)
Aid
Water Ice
Mixed
Boulder (Hueco)
Length
Bolts
Trad
1
21
50

m

9
Yes

A classic two pitch route with diverse climbing on excellent rock. Carry wires and 1 set of cams to #4.
An excellent rope-stretching pitch following a prominent quartz streak. Start on the right side of the streak and follow the bolts, crossing to the left side of the streak below the steepening. Climb the vertical section (underclings) on its left and then up the slab, following bolts and streak to a belay just above an overlap.

2
21
50

m

5
Yes

Move left from the belay and up past two bolts (some natural pro) towards a narrow left-facing overlap/corner. Place cams and bridge up (crux) past a couple more bolts and tricky ground on slab. Continue up following bolts and occasional natural gear to belay.

Mark Watson, Tom Riley, March 2006.

6
Sleeping Dogs
22
50m
7

A full 50m pitch of tricky and interesting slab climbing. 7 bolts. Take wires and small cams (1/2-3/4 essential). Start 5m right of Quiet Earth at belay bolt. Climb up and right, past right end of small overlap and follow technical, slabby ground (crux) up past bolts to prominent diagonal overlap (cam placement). Move left over lower part of overlap and continue up easing ground and past ledge before final section of steep slab to belay.

Tom Riley, Mark Watson, March 2006.

7
Bridge to Nowhere
15
50m

Gain by scrambling right up slabby ramp to a belay point where corner steepens. Bridge up vague corner system past unusual bulgy rock. Terrain eases below the left end of prominent mossy overlap/roof-line (cam placements), traverse right to bolt belay of Goodbye Pork Pie.

Mark Watson, Tom Riley, March 2006.

8
Goodbye Pork Pie
23
50m
10

50m. 10 bolts. Carry small to medium cams and wires. A stunning pitch of technical slab climbing on featured rock. Start off ledge and climb straight up for a few metres following bolts. Trend diagonally up and right utilising dimples and tiny holds (crux), to right hand end of overlap. Continue straight up, and with devious moves gain scoop. Keep following prow past bolts and occasional natural pro placements to belay.

Mark Watson, Tom Riley, March 2006.

Original Line

The route takes a line immediately right of a pronounced grassy rib. Climb through initial bluffs onto the rib then right toward the summit of Barrier Knob.

Pete Glasson, Ken Calder, Al Smith, Mar 1972.

Daisy
12,19,18,15,20
135m
22
8

Daisy (20) is a multi-pitch climb on the north-east face of Barrier Knob. When looking from the base, the route is on the right-hand side and about 50m away from the "Forgotten Silver". Nice moves in every pitch on great quality rock. 1 st Pitch: (19), 40m, 7 bolts 2 nd Pitch: (18), 30m, 5 bolts 3 rd Pitch: (15), 25m, 4 bolts 4 th Pitch: (20), 25m, 5 bolts. ACCESS: 1. From Gertrude Saddle, walk up a reasonably formed path (unmarked) towards the snow fields for about 20 minutes. Afterwards, start traversing right either on snow slopes or rock and scree in late season. Crampons may be required throughout the whole summer if approaching the route before noon. Allow about 20-30 minutes on the traverse, then head up the rock slabs towards the summit ridge of Barrier Knob and look for a big cairn which marks the start/end of the route. Once you look over the ridge, you'll spot a spacious ledge and an anchor with orange rep cord and an old hex marked "Daisy". Rappel to the base of the route, each of the 4 pitches separately. 2. From Barrier Knob, descend to the Barrier Peak col, and scramble down the slabs to the névé at the base of the face. Head left, and keep an eye out for a single bolt with orange rep cord which marks the start of the route. Scramble up a steeper 15m high slab (gr.12) to the first anchor. ANCHORS: Bolted – 2 bolts; 2 maillons. GEAR: 10 quickdraws, optional - few small cams & nuts for the access pitch (gr.12).

#
Ewbank
Alpine (Technical)
Alpine (Commitment)
Alpine (Mt Cook)
Aid
Water Ice
Mixed
Boulder (Hueco)
Length
Bolts
Trad
1
12
15

m

1
Yes

This is an approach pitch from the snowfield. Few small cams or nuts would help.

2
19
40

m

7
No

First pitch when you rappel from the top. (Best approach). 40m long pitch on great quality rock.

3
18
30

m

5
No

Perfect rock with 1 or 2 harder moves!

4
15
25

m

4
No

Nice and easy climbing on good rock.

5
20
25

m

5
No

Starts from a big belay ledge and again, excellent rock. Crux pitch.

FFA Vladimir Suraba, Veronika Vlcekova, February 2021
UUID:
a690ed6c-b1ec-457f-abc6-908028f2a3cc