Natural pro required
First ascent
Milo Gilmour, Nick Flyvbjerg, Rich Tribe, Feb 2013
(16,45m) First pitch follows rightward curving crack to first terrace,
and then follows corner and flakes to convenient small ledge.
(17, 50m) More or less straight up following flakes aiming for base of
corner. Belay on top of large flake.
(20, 50m) Follow the obvious main crack leading to the corner above.
Good laybacking and bridging using large cams (#5).
(21/22, 45m) Continue up wide crack and undercling rightwards to its
conclusion. Strenuous laybacking at the top. Large cams again.
Either scramble loose easy ground rightwards to ridge to exit, or rap off
down the existing route you just climbed.
---
P1
21
Alpine (Commitment) II
190m
Trad
Excellent four pitch route. The top two pitches follow the big corner. Bolted belays to rap off.
---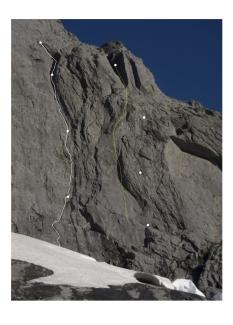 UUID
b7da0021-1624-4e46-8002-d21214212a0f