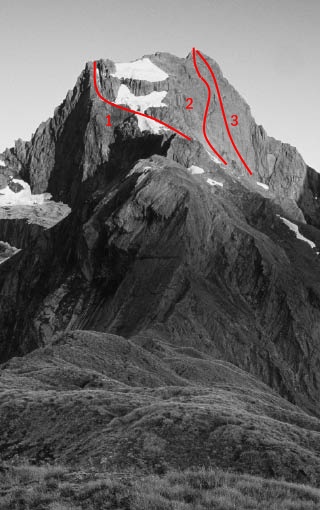 Reference
Title
Grade
Length
Quality
Bolts
Gone
Natural pro
Link to edit content
North West Ridge
II 1+

From the Siberia Valley climb to the saddle between Doris and Awful, then along the ridge.

J W Aitken, J Gillespie, E Miller, F Wilkinson, December 1944

1
South East Ridge
II 2+

From Young Hut there is a well marked tramping route up onto Gillespie Pass. From here the ridge to Mt Awful is scrambling. There are a couple of rock steps which look steeper than they are before the actual ridge is reached. The climbing on the ridge isn't technically difficult. After a snowfield is climbed there is a section of good solid rock along a knife-edged ridge, which is the trickiest part of the climb and may require a rope and a small rock rack.

South West Ridge
14

5 pitches

Mark Morrison, Regan Low, 2001
Attribution:
Allen Uren & John Cocks. Photo Shaun Barnett.
Places
Type
Title
Link to edit content
Face (Alpine)
East Face

(5 routes)
UUID:
1aa72060-d2e3-4dc7-8e3a-53d63bbb4bdd