The main slabby wall to the right of the Central Gully. Probably the most climbed section of rock on the Sebastopol bluffs.
Access:
Park at the second lay by after the corner when driving towards the village from Unwin Lodge (about 1km).
There is a DoC sign and a track that leads to Black Birch stream. On the other side of the usually dry creek bed a track heads towards the prominent slabby looking areas on the right. If you're not on a well-trodden path, you're going wrong. There is a scrubby scree further right. The right arete is the famous "Red Arete".
On descent, the rap stations on the Red Wall are a long way apart, requiring 2 x 50+m ropes, however there are also several mid stations around 30m apart. Alternatively walk off the top or rap down the Red arete if there is no one on it as there are plenty of abseil stations.
Let's Go Bushwalking, Shark Attack and Red Arete have double rings for abseil descents mid-pitch on the first pitches, these are better left alone until you're descending. They are not pitch anchors.
Your descent may be determined by what routes are busy.
Normally people climb Red Arete and descend down Mako or Shark Attack. Mako is better if your ropes are even slightly less than 60m as the Shark Attack station is a stretch on half a 60m rope. Life is better on descent with double ropes.
WARNING: In case your rope is a bit short tie knots in the end.
NOTE: The number of bolts may be different to that listed - feel free to update this.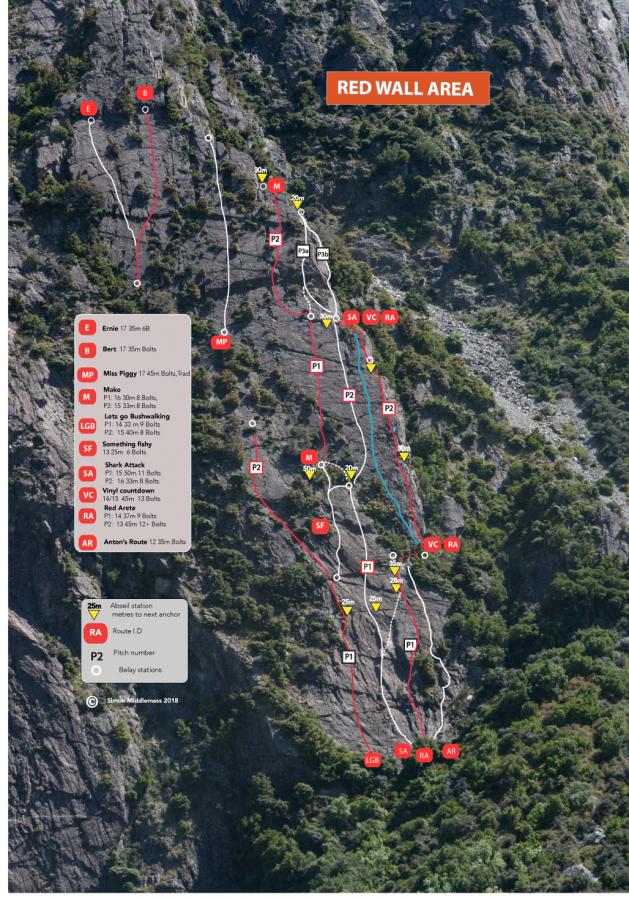 Reference
Title
Grade
Length
Quality
Bolts
Gone
Natural pro
Link to edit content
E
Ernie
18
35m
6

On the upper left of the Red Slabs. Accessed by climbing the first pitch of Shark Attack and the traverse leftwards past the start of Mako. Starts L of a vertical strip of vegetation.

Brent Shears

B
Bert
17
35m
6

On the upper left of the Red Slabs. Accessed by climbing the first pitch of Shark Attack and the traverse up and leftwards. Shares the 1st bolt with Ernie and goes R of the vertical strip of vegetation.

Brent Shears

MP
Miss Piggy
17
45m
2

On the upper left of the Red Slabs. Accessed by climbing the first 2 pitches of Shark Attack or Lets Go Bushwalking and link pitch to the Mako anchor and the traverse leftwards. Start at 2B anchor near a dead tree. Climb veering R-wards to a crack then through an overhang. Once above the roof, move back L-wards past a bolt. Note it is further R than on the topo.

M
Mako
16 ,15
63m
16
3

Starts 5m left and a slightly higher than the 2nd pitch belay station of Shark Attack. May be wrongly named in some guides as Kermit.

#
Ewbank
Alpine (Technical)
Alpine (Commitment)
Alpine (Mt Cook)
Aid
Water Ice
Mixed
Boulder (Hueco)
Length
Bolts
Trad
1
16
33

m

8
No

On the upper left of the Red Slabs. Accessed by climbing the first pitch of Shark Attack and then traverse leftwards a few m to a belay. Or climb LGBW and link pitch 48m 17 bolts

Mako is a 2 pitch route, that begins a few metres L of the 2nd pitch of Shark Attack, and goes through L-ward break on a roof at the distinct white patch of rock.

The abseil from the Mako belay to the ground is 55m. From the Shark Attack one is 50m. There is a abseil station on both Lets go Bushwalking and Shark Attack around 30m above the ground.

2
15
30

m

8
No

Head left through a leftward break in the small roof at a distinctive white patch of white rock then back R onto the upper slab where one the original upper pitches on Red Arete went (trad).

C.Burtenshaw and AATC students

LGB
Let's Go Bushwalking
14 ,15
35m
18

Take the left-most line of bolts on the lower Red Slabs..Climb directly up the wall over a couple of overlaps on great rock move left to easier ground after an double ring abseil anchor to a belay stance 5m higher

#
Ewbank
Alpine (Technical)
Alpine (Commitment)
Alpine (Mt Cook)
Aid
Water Ice
Mixed
Boulder (Hueco)
Length
Bolts
Trad
1
14
35

m

10
No

Take the left-most line of bolts on the lower Red Slabs..Climb directly up the wall over a couple of overlaps on great rock move left to easier ground after an double ring abseil anchor to a belay stance 5m higher

2
15
0

m

8
No

Head out leftwards from the anchor on a rising traverse up and over a small overlap to an anchor hidden behind a bush
.

Paul Aubrey

SF
Something fishy
13
20m
6

A link pitch to get from Let's go Bushwalking P1 to bottom of Mako. Has some scrubby shit to get thru to get onto the Mako belay ledge.

Simon Middlemass 5/3/16

SA
Shark Attack
14,16
87m
20

Named for the shark fin hangers that were recycled from old snowstakes when retro bolted by Spoon who thought it was a new route. The first belay station is only there as a rap point (if you don't have 2 ropes) so truck on by on a nice long 50m pitch. Nick originally climbed the route on trad gear.

#
Ewbank
Alpine (Technical)
Alpine (Commitment)
Alpine (Mt Cook)
Aid
Water Ice
Mixed
Boulder (Hueco)
Length
Bolts
Trad
1
14
50

m

12
No

This climb starts from a double hanger anchor slightly left of where the track arrives.
Climb up the slab between two ribs before moving left up and over the left rib. Continue up a small corner or R into the large yellow scoop then left past a double ring abseil station and straight up through a small overlap
.

2
16
37

m

8
No

A great pitch on small holds.Continue up the fine red wall first out R the veering back L to finish on the big ledge on Red arete

Nick Cradock, 1980s

VC
The Vinyl Countdown
15
45m
13

Starts from the P2 belay ledge of Red arete taking a line curving left between Red arete and Shark Attack to finish on the big Shark Attack/Red Arete ledge. 10 B to the lower ledge on Red arete and 3 more to the main Shark Attack ledge. Grade uncertain as climbed in floppy hiking shoes. Feedback appreciated

Simon Middlemass 30/5/18

RA
Red Arete
14,13,15
93m
28
2

Tom Fyfe reputedly climbed this route solo, as preparation for the first ascent of Aoraki Mt Cook. It has since been retro-bolted and makes a superb moderate multi-pitch rock climb. It is probably best climbed in two long pitches to the top of Shark Attack belay on the big ledge below the upper bulging headwall.There are optional extra short pitches that follow the arete from ledge to ledge. Some pro might be required. If you climb the 2nd pitch as one long one you will need about 13 quickdraws. There are many anchors over this wall - most with rings are to facilitate escape on a single 60m rope. They are not necessarily a good place to belay at on ascent. Lots of variations exist.

#
Ewbank
Alpine (Technical)
Alpine (Commitment)
Alpine (Mt Cook)
Aid
Water Ice
Mixed
Boulder (Hueco)
Length
Bolts
Trad
1
14
37

m

9
No

Climb the second line of bolts from the right-hand end of the slab.The climb follows a prominent rib left of the Totara bushes before moving onto the open face above. Belay at the left end of the ledge the climb arrives ( you can see the climber from there) and then move across the Aubrey step to belay behind the shrubbery. NB The lower double rings are for abseil descent. Alternatively and quite popular was to start up the Shark Attack line, climb into the yellow scoop and diagonal up R.

2
13
36

m

13
No

This is the primo long pitch.From the belay behind the trees, climb up and over a small bulge(crux) then stay left of the arete up the line of bolts (passing a abseil anchor en route) until reaching a substantial ledge with another anchor. Clip the next bolt on the left (ignoring the anchors) climb the pedestal and continue on a short 10m (3 B) pitch to the next ledge where Shark Attack finishes. The arete can be climbed higher.

3
15
20

m

6
No

Variant a)
From Shark Attack/Red arete belay head L up easy slab to base of bulging wall R of Mako. Through the bulge on the left then up face left of the arete to a ring belay. another bolt protects the easy traverse to the Mako anchor further up the ridge.

Variant b) 4 Bolts. from the back edge of the SA/RA ledge follow steep slightly run out Grade 13 climbing to the same anchor.

Tom Fyfe, 1894 (reputedly)

Red Arete Alternative Start aka Antons Route
13
37m
8

An alternative start to Red Arete, starting 3m right of that route and climbing to the belay station at the top of the first pitch.

Anton Wopereis
UUID:
2387174d-87e2-4ae0-92b8-27b06a9a6387