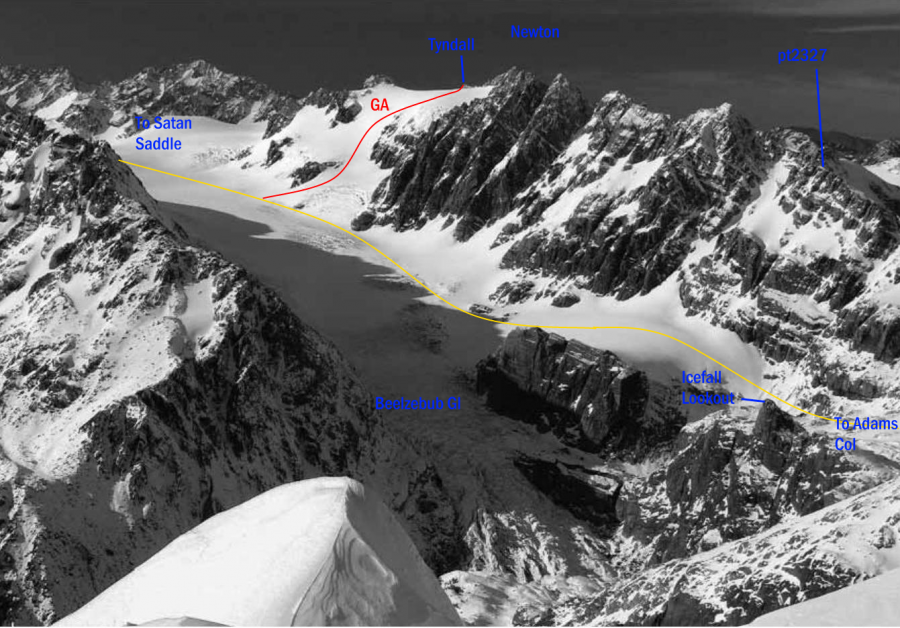 Reference
Title
Grade
Length
Quality
Bolts
Gone
Natural pro
Link to edit content
GA
From the Garden of Allah
1+

From about I35 252639, choose a route southeast up moderate snowslopes leading to the Main Divide a few hundred metres northeast of Mt Tyndall. Alternatively a longer, but easier, route approaches this same point from the Allah neve under Snowy Pk. Then cross easy snowslopes to a col west of Mt Tyndall. On southern slopes cross boulder scree then scramble up loose rock to the equally loose summit ridge, or alternatively follow moderate snowslopes part of the way slightly further east.

Ebenezer Teichelmann, Jack Clarke, Alec Graham, 6th Feb 1911

South Face.
2

A diagonal snow climb from the Garden of Eden up crevassed snowslopes that vary considerably and are often cut off later in the season. There are some big slots up here. Reach the ridge between Newton and Tyndall from which both peaks are accessible.

LK Wilson, HW Cormack, Dec 1933.
Attribution:
Yvonne Cook and Geoff Spearpoint, in association with the Canterbury Mountaineering Club
UUID:
244bc800-9785-48bd-ad13-e8ad96040753