Northern cliffs.
approached from the cemetery via a rough track which leads to Cod Rocks and The Platform.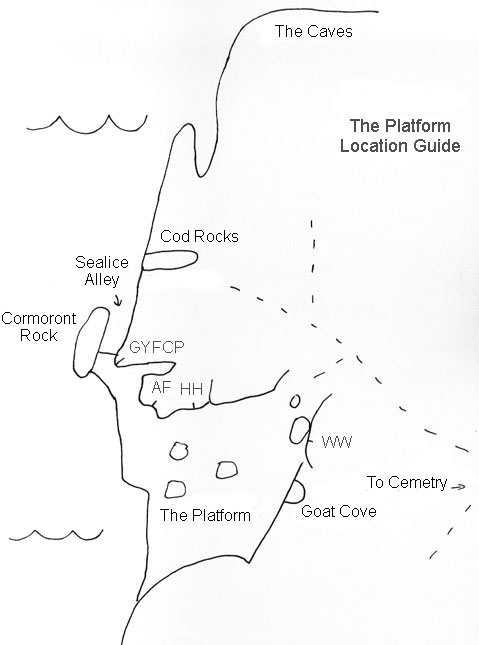 Reference
Title
Grade
Length
Quality
Bolts
Gone
Natural pro
Link to edit content
Get Your Fun Card Punched
20
15m

a superb climb up the arete, continue up steep jugs just left of the arete

Dan Mannix '88

Creatures of the Deep
22

The flake in the gully R of GYFCP.

Scott Camps

Dancing in the Dark
10

Left end of the south wall of the cave, damp.

Grease
15

Right end of the south wall of the cave.

Armless fun
15

Cracks and overhang up r side of the nose left of Pinch of Salt.

Pinch of Salt
13

Easy crack 1 m left of Crank with a Yank.

Crank with a Yank
17

On the R of the sea facing wall by the round orange blob, going straight up.

Armed forces
22

The overhanging wall facing south, start at the round orange blob on the left, move up and right then straight up to the crack (crux). Move right to a rest then back left to the crack and up.

Dan Mannix '88

Boys in Blue
22

The Crack R of AF, using a high nut placed with a stick.

Scott Camps

All Hands on Deck
16

The corner through the overhang.

Rick Harding '88

Heave Ho
17

Right tending crack R of AHOD, difficult to place pro.

Paul Woperis (solo) '87

Jump for Joy
15

R trending crack R of HH.

Rick Harding '88

Windward Way
15
10m

sloping face to the flax, L end of the wall.

Paul Woperis (solo) '87

Babes in Arms
17

Overhanging crack on the boulder L of Goat Cave.

Rick Harding '88

Partners in Climb
10

Crack and corner exit to cove on R side of the cave.
UUID:
dcd647b8-3695-493e-a708-916fdc22cfdf