Natural pro required
First ascent
Steve Skelton, Keith Brown, 2012
P1 : L tending crack to soft white flake. Then get into the DIAGNOLATOR! Trad
belay. 20
P2 : Up R tending flake, to weakness. Follow R facing crack to half way, then
step L to orange patina face. Run it out to the chains! 20 R.
---
Face crack heaven! Navigate your way through discontinuous cracks straight up the face. Spicy finish! R for DangeR.
---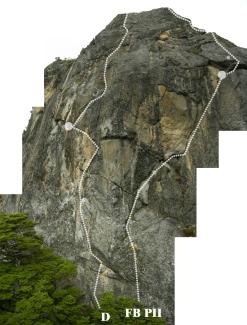 UUID
7e05e5ad-90bd-4720-91da-bec012945ac3