1
Natural pro required
First ascent
Steve Skelton, Reese Doyle, 2010 : Ground Up.
Second Pitch, Steve Skelton, Danny Murphy 2015 : Ground Up.
---
Obvious zigzag crack left of Roaring Forties. Apparently there are some face holds. Rings.
---
Clip first bolt off the belay. Then it's an adventure climb following discontinuous cracks, generally tending rightward to chain anchor. Double set of cams and a #5.
---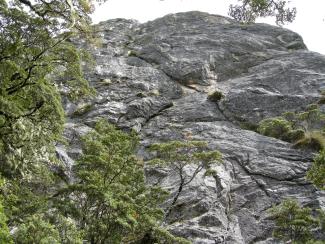 UUID
daf51c23-00f7-4c13-b487-c6d54f9a67ef