Small atmospheric crag 50m west of Abel Tasman Monument - the closest you may get to sea cliff climbing in Golden Bay
Access:
Pohara: The Shagadelic Buttress
Drive to Pohara and continue past the Port (Tarakohe) through the tunnel and past the Cathedral Wall. At the top of the hill is the Abel Tasman monument.Take the left (western) entrance track to the Abel Tasman monument. After the zig zags a small track drops down on left (just before a tree root crosses the path).
To get to the bottom beach turn left at the bottom of the access track, follow blue markers left then drop down through a small gully with a fixed rope.
To get to the top of IMM. (High water access). At the bottom of the rough track follow blue marker tape initially right. A anchor (over edge) allows a rap to the main anchor, clip rope through runners on way down so you can pull through and not drop it into the sea.
AT ANYTHING OTHER THAN ABOUT 1.5 hrs EITHER SIDE OF LOW TIDE YOU WILL NEED TO RAP IN FROM THE TOP OF THE CLIFF TO A HANGING BELAY ON INTERNATIONAL MAN OF MYSTERY.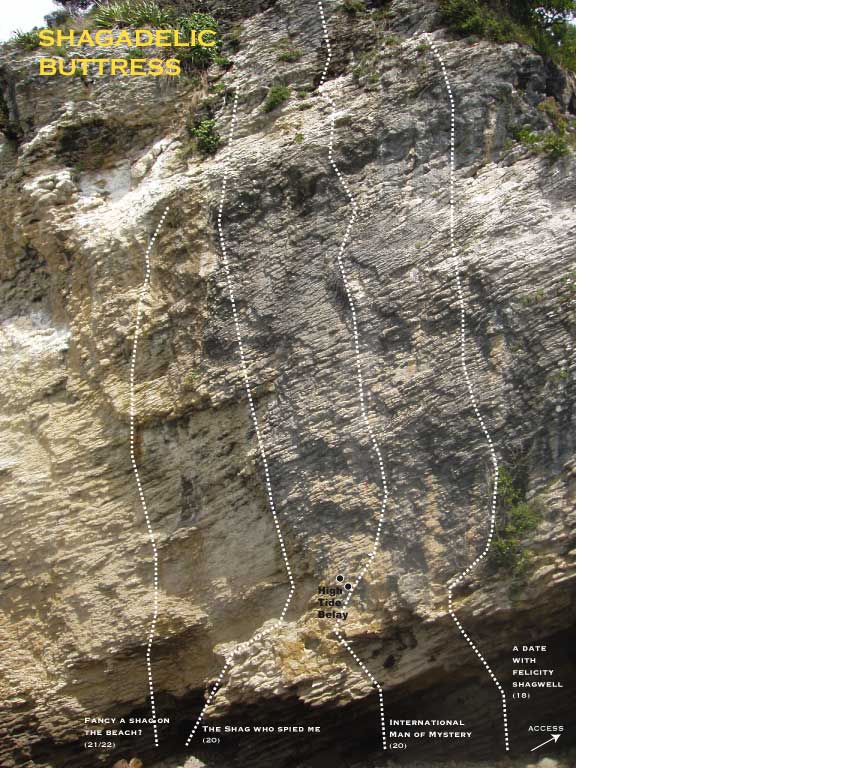 Reference
Title
Grade
Length
Quality
Bolts
Gone
Natural pro
Link to edit content
A Dream of White Shags
18
7

Currently the leftmost line of bolts on the main Shagadelic wall. Climbable at high tide with alternate approach to crag. Vertical wall followed by an airy overhanging traverse left and up to anchor. Don't climb here during nesting season (Summer?).

Michael Cartwright, 2014

Fancy a Shag on the Beach ?
22
14m

Boldly up overhanging scoop on left of the main wall then through bulges. Tricky move right to anchor at top.

Mark Brignole 2004

The Shag Who Spied Me
21
15m

Start on diagonal ramp from left to the line that follows the yellow/gray rock boundary on the centre/left of the wall. Crux at the top. Can start via I.M.M also.

Phil Castle 2004

International Man of Mystery
19
22m

From the beach at obvious jug handle and glue in bolt up to the high tide belay then right. Crux low down then lotsa holds. There is another anchor a few metres higher if you want to top out.

Simon Middlemass 2004

A Date With Feliicity Shagwell
18
20m

Pull through steep bulge then move right up easier ground on to a slightly 'out there' finish.

Simon Middlemass 2004

More rad than trad
20
10m

Takes the overhanging wall on the western end of the beach, adjacent to the main wall.

Phil Castle 2005

Sunset Cruise
17
4

Walk right through the hole beyond More Rad Than Trad to find a neat little overhanging orange wall around the corner. Climb the lay-back flake starting left below it.

Michael Cartwright, 2014
UUID:
0c988687-02c2-4221-953c-3582905d093e