From the Upper Tasman Glacier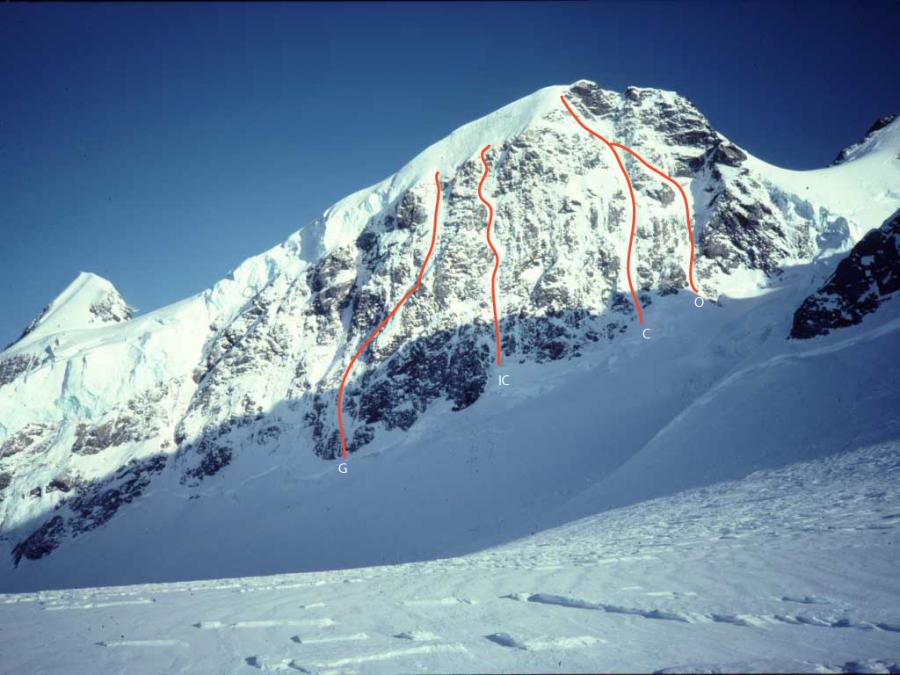 Reference
Title
Grade
Length
Quality
Bolts
Gone
Natural pro
Link to edit content
G
Geriatric
5

A thirteen pitch route starting just right and below where the major icecliffs begin to develop. The route follows a right ascending traverse after four pitches and then heads straight up steep ice onto the ridge 200m from the summit of Mt Walter.

Russell Braddock, Pete Brailsford, Aug 1983.

IC
Ice Crème
5

Ascend an obvious gully for eight pitches, which broadens out to join the snowfields left of the summit.

Paul Bayne, Shaun Norman, June 1983.

C
Curtains
5

Climb a steep ice curtain, which leads into a broad gully. The gully leads left and finishes directly at the summit.

James Jenkins, S Parkes, Aug 1981.

O
Original
5

Ascend a steep couloir on the right side of the face for three pitches. Then traverse left into the same gully ascended by the Curtains route.

Nick Cradock, Barry Jury, Nic Kagan, Jun 1977.
UUID:
d01772e0-60ff-4e1f-9961-c98e60e9549c