Although the main routes on the face are described below, some variations exist, including a line west of the Left Couloir, arriving on the Pioneer Ridge between Alack and Douglas. Descend a loose gully to the Explorer Névé.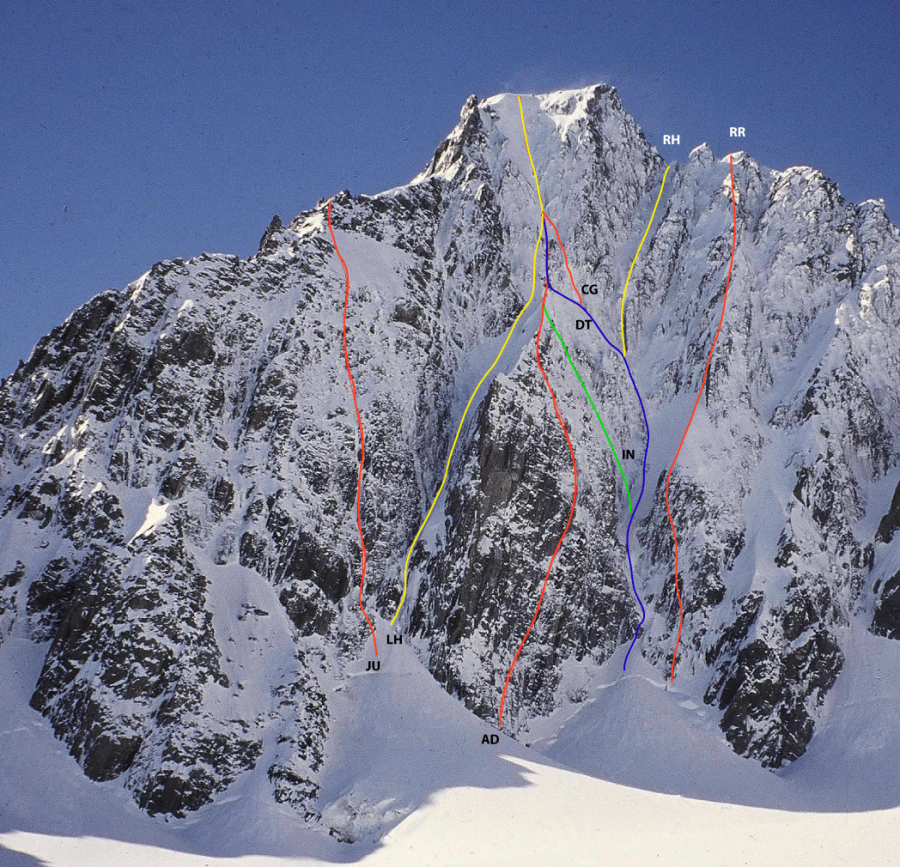 Reference
Title
Grade
Length
Quality
Bolts
Gone
Natural pro
Link to edit content
JU
Jefferies- Uren
5 5

No details available on the grade. Gully left of LH gully exiting onto Douglas ridge.

Craig Jefferies, Allan Uren 2002?

LH
Left Hand Gully
5-

Follow the narrow couloir that gradually widens and meets the central arête. Continue up and traverse into the upper Central Couloir and up to the summit. A classic and highly recommended climb.

George Harris, Murray Jones, Dec 1968.

AD
Albertown Direct
5+ WI3 M2
2

A line running up the RH side of the Central Buttress joining the central arete and finishing up the LH gully

Craig Jefferies, Dave Vass, July 2003

IN
Interceptor
5+

A new variation to the Central Couloir route that traverses from the right to the left couloir lower than the original line does, hence missing the central couloir, and involving four pitches of new ground –

Grant Piper, Paul Scaife, Andrew Haugh, Oct 2003

DT
Denz/Timms
5

Start up the RH gully then makes a difficult (1971) traverse left to join the Central arete then finishes up the original LH gully finish. This was the FWA of the South Face of Douglas.

Bill Denz, Chris Timms, August 1971

CG
Central Gully
5+

Follow the lower right couloir to near the foot of the obvious narrow notch (at 2/3 height), then traverse leftwards into the Central Couloir. Ascend steep ice, for a couple of pitches, which gradually relent, leading to the summit. Superb.

Nick Cradock, John Davie, Colin Dodge, Roland Logan, William Trengrove, Aug 1977.

RH
Right Hand Gully
5

Climb the couloir to an obvious deep notch, which can be ascended or else avoided using a ramp on the left. Then exit via a wide couloir onto the Ayres Ridge.

Bill Denz, Ian Ross, Nov 1972.

RR
Far Right Rib
4+

Follow the rock rib, right of the Right Couloir, which joins the Ayres Ridge.

Geoff Bartram, Ben Read, Jan 1979.
Attribution:
Alex Palman, photo, Craig Jefferies
UUID:
5006ff0f-483b-49a0-ae41-8772c2d0010b