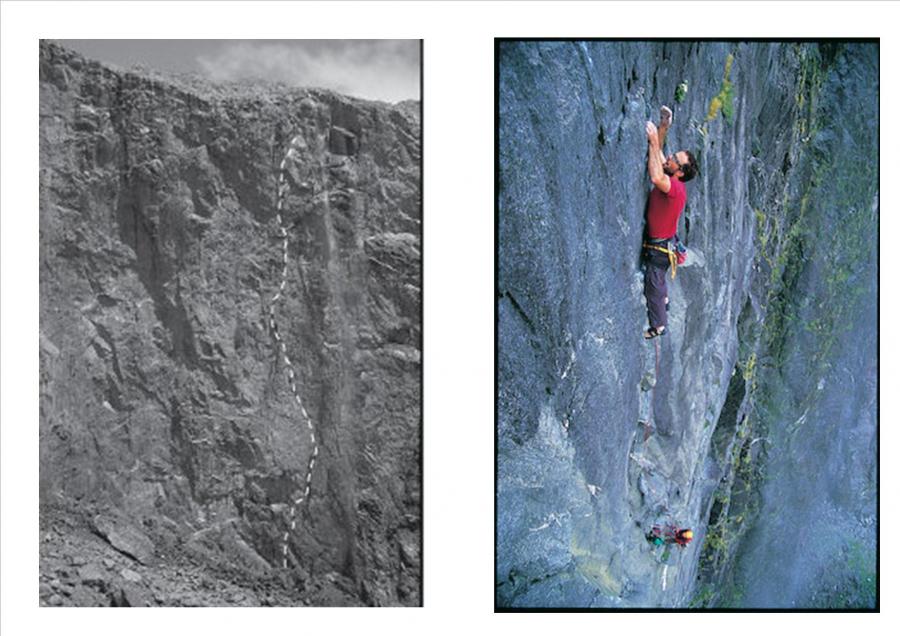 Reference
Title
Grade
Length
Quality
Bolts
Gone
Natural pro
Edit link
1
Te Hamo
22 ,27 ,24 ,25 ,26 ,27 ,28
174m
23
3

Named after the toki (adze) the Maori God Tu-te-raki-whanoa used when he hacked up the rock to create the towering cliffs of Milford Sound, this route gains the prominent right-leaning diagonal crack that slashes across the middle of Sinbad Wall, generally getting harder as it goes. Consider the grades provisional. Feel free to extend this route further, up through the impressive looking headwall, or finish up Weatherspell. A direct start or linking pitch 2 direct to pitch 5 would also be worthwhile additions. Start at a right leading ramp, just left of the bright green splotch, clip a bolt, then start jamming and quest on upwards. The first two pitches were established some time ago by Derek Thatcher and friends, then Te Hamo heads rightwards. Every pitch at least two (2/3) star so whole route given 3 stars. Descent: this climb is continuously steep so tag a second rope from top of pitch 2 to the top of pitch 4. From the top of the route you can back clip pitches 7-5, then use the tag line to double rope rap to the top of pitch 2. A 55m rap from here will land you back on the ground.

#
Ewbank
Alpine (Technical)
Alpine (Commitment)
Alpine (Mt Cook)
Aid
Water Ice
Mixed
Boulder (Hueco)
Length
Bolts
Trad
1
22
30

m

1
Yes
22, 30m, Excellent jamming up this classic crack pitch. First equipped and climbed by Derek Thatcher & Mayan Smith-Gobat.
2
27
25

m

3
Yes
27, 25m, Traverse up and right into corner then span wide tricky moves past first bolt and face climb past two more bolts to belay ledge. First equipped and climbed by Derek Thatcher & Mayan Smith-Gobat.
3
24
27

m

3
Yes
24, 27m, Rising traverse. To ease descent, trail a tag line or second rope from here to the top of pitch four.
4
25
27

m

4
Yes
25, 27m, Follow bolts on thin flakes, pull through overlap and continue up widening crack to ledge.
5
26
15

m

5
No
26, 15m, Short, steep, fun!
6
27
20

m

2
Yes
27, 20m, Crank crux between bolts, then attack the crack.
7
28
30

m

5
Yes
28, 30m, Dynamic crux; sustained crack to finish

Sefton Priestley, Zachary Orme, Greg Jack; Feb 2018

2
Weather Spell
30
270m
2
1

9 Pitches, 270m, 30 (26 Variation), mixed bolts and trad, steep granite climbing along cracks, roofs, dihedrals, faces and arets. Bolted belays. – P1: 20m, 18/21, Trad – P2: 30m, 25, 1 Bolt – P3: 30m, 22, 4 bolts – P4: 40m, 21, 3 bolts – P5: 35m, 23/25 long reach, easier if you are tall!, 2 bolts – P6: 35m, 27, 6 bolts – P7: 15m, 24, 1 piton – P8: 25m, 30 or 26 variation, 7 or 9 bolts – P9: 20m, 25, 1 piton. Abseil down the route! Or Basejump!

Alex Schweikart, Chris Igel, Karl 'Merry' Schimanski, Claudia Kranabitter, March/April 2013

3
Shadowland
27

1) 21, 25m. Climb the steep clean face behind a large block using the flake crack. Steep moves lead to a hand traverse right, then into a steep left-facing corner. 2) 20, 30m. A grassy groove on the right leads to a left-facing corner flake. Ascend this 'til the flake leads you across to the obvious left-facing corner; this leads to a big ledge and belay. 3) 23, 20m. Climb the left-leaning crack/layback on fingerlocks and lay-aways using wires and CDs (friends to 2.5) and four bolts to a hanging belay. 4) 27-A2, 20m. The overhanging wall left of the belay leads to a left-leaning corner; mostly bolts with the odd wire and small cam. 5) A2, 15m. Climb the steep wall above the belay past four bolts 'til easy climbing traverses left to a ledge with a single bolt belay; some wires and small CDs. 6) A1, 35m. The Thunder Bolt Crack. Move left and climb flakes and left-facing corner to a recessed groove. Exit the groove on the right and move up and right to a grassy ledge and belay; full rack of CDs to #4 and wires. 7) A1, 40m. Above the belay is a left-facing corner which steps dramatically towards a roof; take extra wires and CDs to #3. 8) A2+, 10m. A short pitch from the hanging belay, cranking through the roof and steeply up to a more comfortable hanging belay! 9) A3, 15m. The chimney above provides the steepest climbing while breaching the headwall: good to have big CDs and a complete rack. 10) A2, 40m. Stunning clean groove leads to more vertical climbing on Labyrinth-like buckets. Exit the groove then tend right and up, stepping round the arête to a belay ledge on the right; full rack required with CD's to #4. 11) Unclimbed...possible grade 20. Either move back left and climb the grooved arête to the top or climb the ledge system above the belay, tending right 'til a shallow corner takes you to easy ground.

Craig Jefferies, Paul Rogers, Jan 2003.