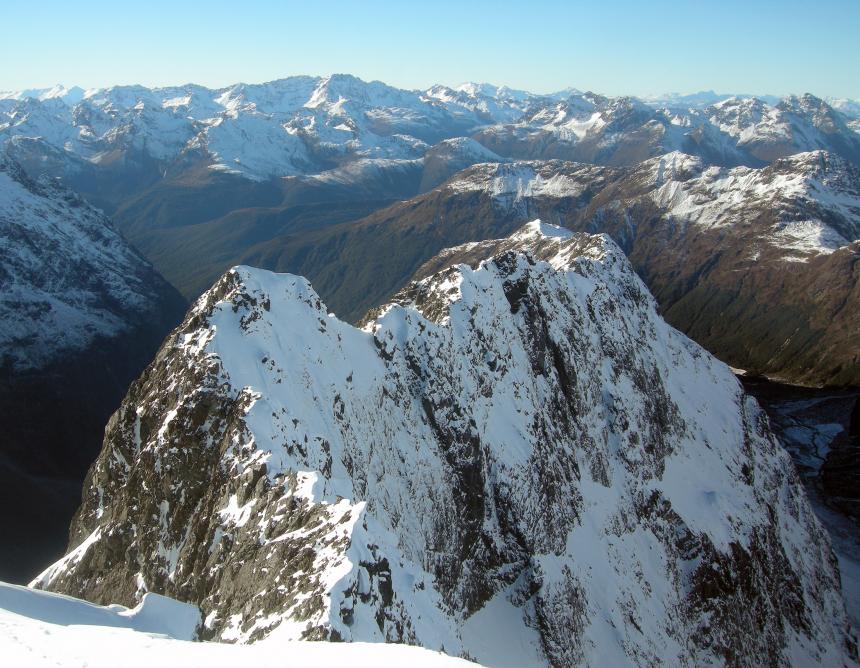 Reference
Title
Grade
Length
Quality
Bolts
Gone
Natural pro
Link to edit content
South Ridge

The party traversed Suter descending the Falls Creek-Hollyford ridge line. The crest of this ridge was climbed by JH Christie and T Moore in Oct 1933.

Dal Ryan, Colin Lea, Jan 1960.

South Face
700m

At the head of Falls Creek in the Earl Mountains, Fiordland. Ben and Stephen carried rock gear but placed little, finding continuous good-quality ice for the length of the route. They bivvied on the summit and descended via the full length of the east ridge back to the Hollyford

Ben Dare and Stephen Skelton, Jul 2014

Original Route

A diagonal line up to the left to gain the summit ridge.

Bill Gordon, Ralph Miller, Noel Dunlop, Morrie Davis, Mar 1959.

East Ridge Gully Route
II 2 2+
700m

From upper Falls Creek around 1000m contour, obvious valley to ridge top snow-ice gully with no escape. Probably below spot height 1762m on south side of the East Ridge of Mt Suter. Steep pitch near mid height. Descend by heading east down ridge and down climb gully systems to valley. Good bivi cave in valley.

Jon Taylor
Attribution:
Craig Jefferies. http://climber.co.nz/news/first-ascent-south-face-mt-suter. Kester Brown. Stephen Skelton.
UUID:
b2198629-031e-467d-8e16-750df993e7a8