This is the East facing cliff on the left hand side of the Upper Cirque, with many prominent icy lines. Climbing on this cliff is very good, but it does catch the sun at times through the day.
Be wary of snow conditions in the Upper Cirque.
Access:
Via the McPherson Cirque path, to below the cliffs, then either up the access/descent route on the left hand side of the lower tier, or climb one of the routes on the lower tier.
Best descent is down Talbot's Ladder.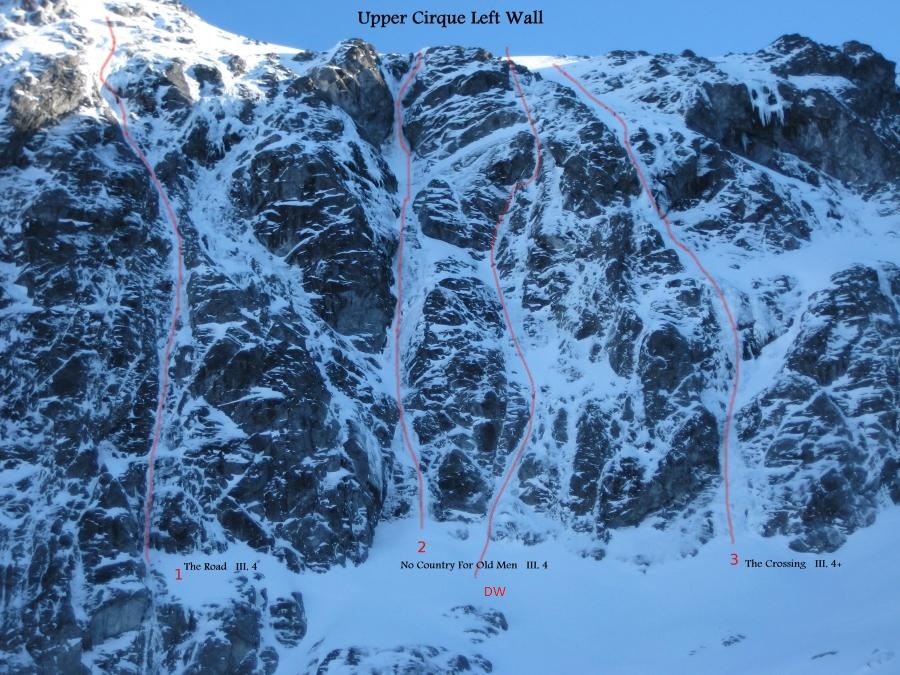 Reference
Title
Grade
Length
Quality
Bolts
Gone
Natural pro
Link to edit content
1
The Road
III 4
220m

An aesthetic. laser line of ice, directly up the left hand side of the cliff. Climbed as 5 pitches, pitons are useful for belays. The top pitch gets the sun early in the afternoon.

S. Fortune, R. Measures, July 2012

2
No Country For Old Men
III 4
220m

This is the deep central gully line, and forms an excellent and interesting ice climb. Not recorded when first climbed, the route was resdiscovered by S. Fortune and R. Measures in July 2012.

A. Uren, G. Charles, S. Howells, 2000

DW
Dark Waters
III 6
220m

The groove/corner up buttress to right of No Country For Old Men. 2 pitches up thinly ices grooves, then 2 steep mixed pitches up corner going right of roof.

B Dare, S Fortune July 2017

3
The Crossing
III 4
220m

Climbs the larger ice flow on the right hand side of the cliff. Climb the ice flow for 60m. Continue up the ice flow, over the overlap, and up snow slopes to belay under an ice pillar, 60m. Climb the pillar thropugh overhangs, then up mixed ground to a belay on the left, 60m. Follow the easy gully to snowfields below the ridge.

T. Steward, J. Harrison, July 2012
Attribution:
Photodiagram - Steve Fortune
UUID:
9a7f9729-8deb-4a78-821c-3af296829005