The cliff directly above the lower tier of cliffs, in the centre of the Cirque. This cliff may largely bank out and become snow covered as the season progresses.
Be very wary of snow conditions in the Upper Cirque.
Access:
Via the McPherson Cirque path, and then either up the access/descent route at the left hand end of the lower tier, or climb one of the routes on the lower tier.
Best descent is either over the top to Talbot's Ladder, or abseil the route back into the floor of the Upper Cirque, dependent on the state of the snow above the cliff.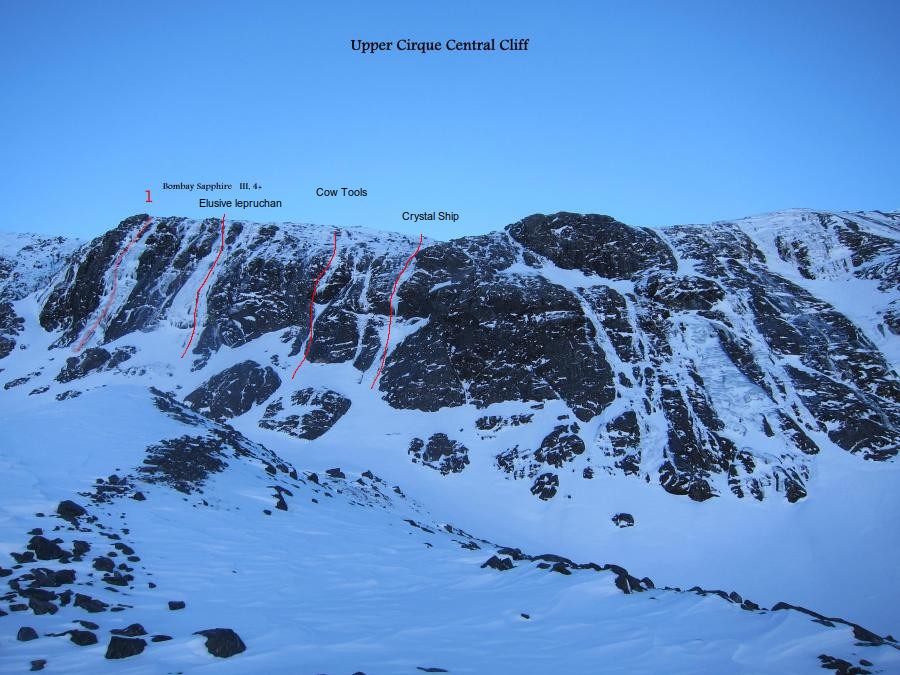 Reference
Title
Grade
Length
Quality
Bolts
Gone
Natural pro
Link to edit content
Bombay Sapphire
III 4
150m

On the left hand side of the cliff, the steep ice flow is climbed in 3 pitches. The first pitch finishes at a superb belay cave.

R. Measures, V. Wills, H. James, July 2012

Elusive Leprechaun
III, 5

III, 5, 3 pitches up LHS upper tier McPherson Cirque

Ben Dare, Danny murphy, Stephen Skelton 2013

Cow Tools
II, 4
140m

Ice forming a pillar on LHS of cave

Steven Fortune, Ben Dare, 2022

Crystal Ship
III-IV, 6-7
30m
2

A rarely formed, free hanging pillar over cave in middle of upper tier. Formed in the super season of 2015, not often seen in!

Ben Dare, Steven Fortune, 2025

Freeloading
III 3

Consisting of 3 pitches of ice on the right hand side of the cliff, the precise line of this route is uncertain. The ascent possibly took a line up the wide icefall immediately to the right of the roofs. The grade is also uncertain. So named because Andy MacFarlane was becoming fed up with other Winter climbers not paying their hut dues.....

P. Corbett, A. MacFarlane, July 1996
Attribution:
Photodiagram - Steve Fortune
UUID:
97f23871-889e-45cd-ab35-1abda95300f2