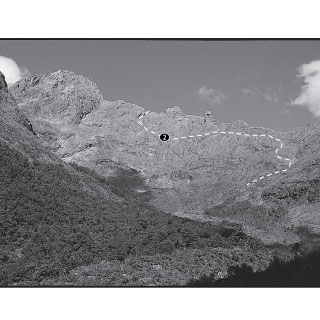 Reference
Title
Grade
Length
Quality
Bolts
Gone
Natural pro
Link to edit content
The Grave Talbot Pass

The route crosses a snowfield from above Talbot's Ladder to a notch in a rock rib called Lyttle's Dip. From the Dip scramble through a hole in the rock then down a gully for three or four metres before exiting onto a narrow right trending ledge system, then across another snowfield to a notch at about the same height, the Grave Talbot Pass (incorrectly labelled on Topomap D40). From the pass descend right down steep snowgrass bluffs before traversing left (westward) on a high terrace right across the cirque to lower angled slopes above the De Lambert Falls. It is still possible to find the rusted cables of the Grave Talbot Pass along the traverse.

William Grave, Arthur Talbot, Jan 1910.
UUID:
5edb6416-8898-4301-965a-9f8b0d762f34