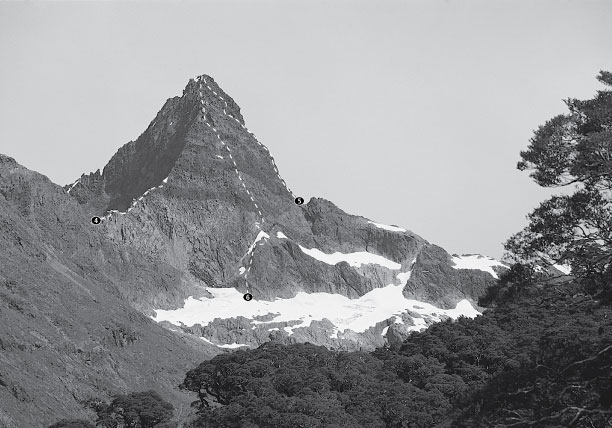 Reference
Title
Grade
Length
Quality
Bolts
Gone
Natural pro
Link to edit content
East Ridge

The rock is broken and loose in places.

Dal Ryan, R H Shelton, S G Hunter, Dec 1958.

Original Route

Climb through the bluffs to the snowfield then start up the North Ridge, the subtle buttress forming the junction of the northeast and north faces. Where the ridge steepens traverse left across the northeast face to the top of the East Ridge.

Rod Ryan, Dal Ryan, Jan 1951.

North East Face
500m

Start in the middle of the face at the large buttress which forms the base of the face; three pitches to the top of the buttress then move across a gravel connection to the main face; two pitches going left then right before straightening up; 200m of scrambling to join the East Ridge not far below the junction with the North Ridge.

Ian Brown, Tom Williams, Feb 2002.

West Ridge

Up tussock and scree slopes. The party made the first traverse to the East Ridge.

Austin Brookes, Dal Ryan, 1965.
Places
Type
Title
Link to edit content
Face (Alpine)
North Face

(2 routes)
UUID:
92a9ee59-c9b3-4105-af1e-cb99986b6337