This massive buttress is undercut at the base and has some awesome lines. All of the routes start either at the far left or right to access the climbable rock. User beware of the bolts.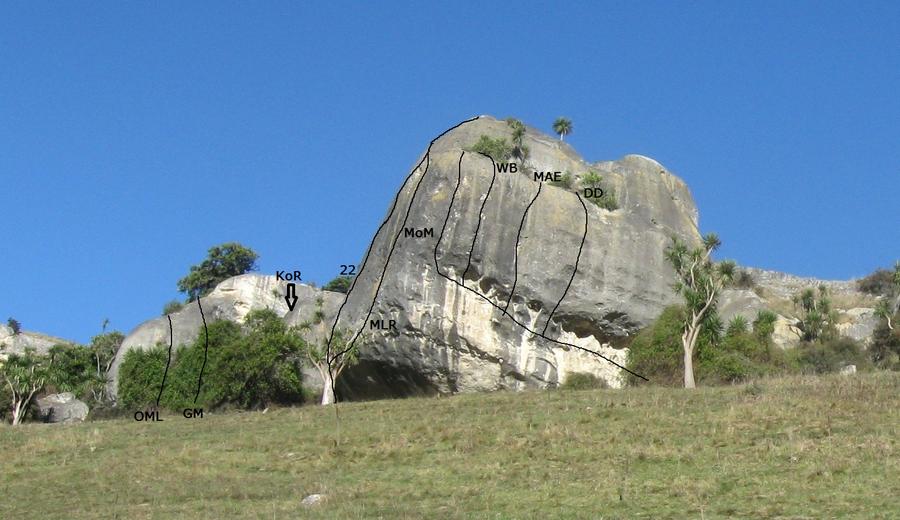 Reference
Title
Grade
Length
Quality
Bolts
Gone
Natural pro
Link to edit content
OML
Ole Memory Lane
22
15m
2

Pock crank past the bolts, and work your way through the thin crux to topout.

Ian Binnie

GM
Great Mission
21
1

4m r of OML. Climb through seam of pocks and over the bulge.

KoR
Knights of the Reich
21
14m
3

Climb through pocky groove. Oposite OML.

John Fraser 1989

Picnic at Hanging Rock
20
15m
4

Follow steep section through to slabby top-out.

John Fraser 1990

22
Unnamed
22
24m
6

Start as for MLOR, and continue striaght up the face.

MLR
Momentary Lapse of Reason
22
25m
8

Traverse R-ward along line of jugs from undercut to the middle of the face. After the 4th bolt go straight up the face.

Ian Binnie 1989

MoM
Margins of the Mind
15 ,21
27m
4

Traverse L-wards through large scoops, from the RHS of the wall. Some gear may be required.

#
Ewbank
Alpine (Technical)
Alpine (Commitment)
Alpine (Mt Cook)
Aid
Water Ice
Mixed
Boulder (Hueco)
Length
Bolts
Trad
1
15
15

m

2
Yes

Traverse L-wards through large scoops, from the RHS of the wall. Some gear may be required.

2
21
12

m

2
No

Climb up the arete on sound holds.
It used to be popular to climb the crux then jump off for the big lob.

Simon Middlemass 1990

WB
We Got Bananas
24
24m
5

Travers L as for 1st pitch of MotM. Climb up the groove to the R of the 2nd pitch of MotM

Brian Alder 1990

MAE
Murder on the American Express
26
20m
3

Traverse L part wway on MotM, then straight up through the bulge

Dave Fearnley 1990

DD
Doctor Doolittle
26
17m
3

Traverse L past sharks tooth, and out through rooof onto wall R of MotAE

Jeremy Strang 1991

R of DD
Hercolubus
27
20m
5

Shares start with other routes but heads straight out the roof and then the groove right of DD. Finish up the slab to the highest point of the buttress.

Tom Hoyle 2008.
UUID:
15e84cb7-c01f-45f6-b05d-77ad442533ae