A narrow buttress with a steep lower section easing off further up. There are vegetated gullies on both sides that can be used for access, and one set of anchor rings for abseiling.
Access:
Continue along the track westward past an area of gorse.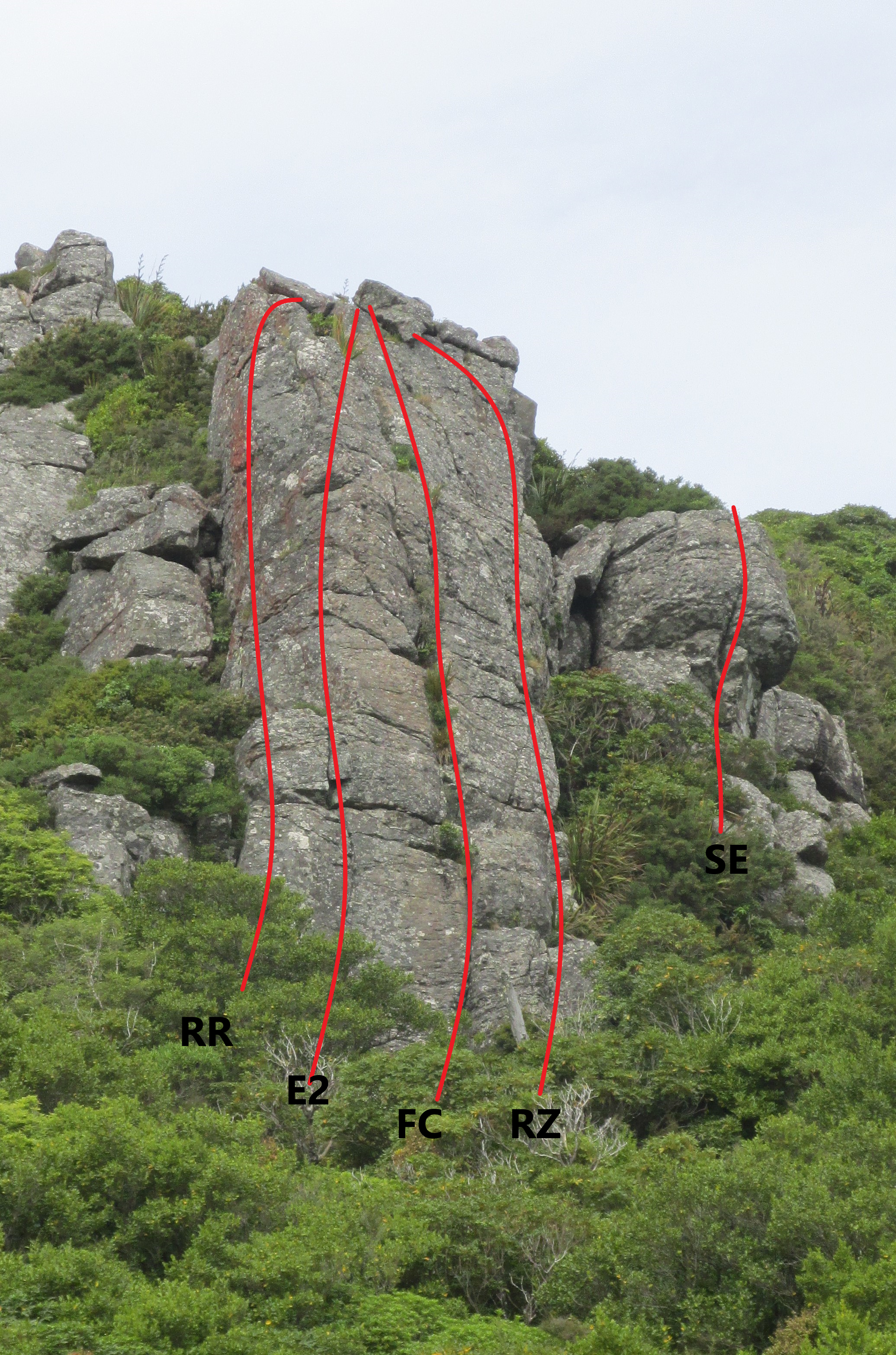 Reference
Title
Grade
Length
Quality
Bolts
Gone
Natural pro
Link to edit content
RR
Recycled Recreation
17
20m

On the very left of the Right Buttress. Climb the wall trending left under the overhang to the crack. Up past gorse to gain a ledge (crux), and then up the arête. DBA

Lindsay Main, 2013

E2
Executioner The Second
19
20m
1

Start from the same point to a thin crack on the right side of the arête. Easy climbing on to the wall, where the flaring crack provides protection with small offset wires. Gain the horizontal break (cam) and finish up the arête to a two-ring anchor.

Joe Arts, 2012.

FC
Falcon Crack
15
20m
1

The obvious cleaned crack in the middle of the face. Up steeply with bridging to the right, and on past several bushes as the angle relents. DBA (on E2)

Joe Arts, 2012.

RZ
Red Zone
14
20m

Starts just to the right up the broken arête. Higher up the climb moves on to the face, picking up reasonable gear all the way. DBA (E2)

Joe Arts, 2012.

SE
The Split Egg
16
15m

Further right, up the gully a bit, is a crack with a small overhang.

Fred Haering, 2012.
UUID:
398e11b2-e3d8-4783-bb4b-13696a60b80e