Natural pro required
The line is shown incorrectly on the topo - it should continue further up the
gully before moving sharply left.
---
Start a few metres to the R, and climb through the blocky bulge at 12m to large platform with tree. Up the gully slightly, swing L across a slab (crux). Continue on same line. You can of course finish up the corner of Red Guard Gully.
---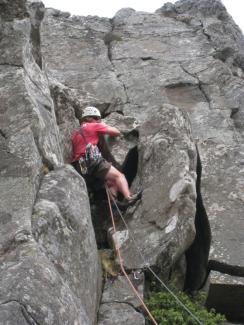 UUID
52b03a45-34cd-4e7f-95d8-630fa85f80aa