This is the small wall on the main ridge of the crags below Bobo Wall. The main track passes directly below the south end of the wall, and the side track that leads to the Upper Pillars branches off here and passes below the wall.
Access:
Walk down the upper track and around the base of Bobo Wall. Follow the track across to where it nears the ridge, and where it turns back and drops steeply to the south is the south edge of Gaga Wall. The routes on the right side are accessed by following a track with an interesting step across to gain the ridge.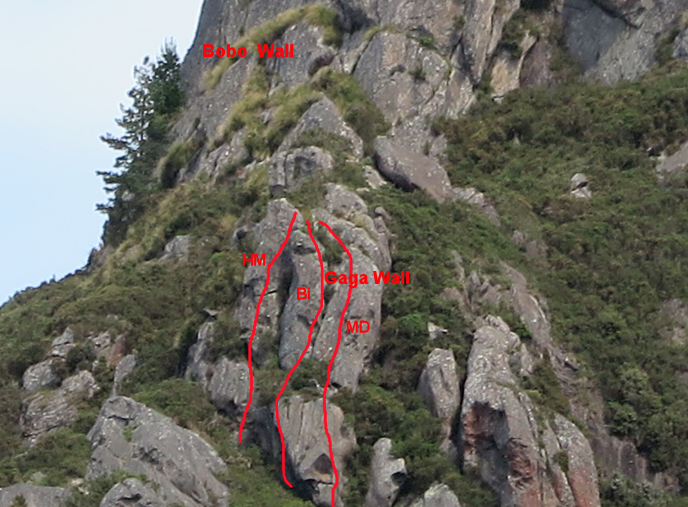 Reference
Title
Grade
Length
Quality
Bolts
Gone
Natural pro
Link to edit content
A Star Is Born
18
15m

Obvious crack at the base of the track where it comes across from Bobo Wall and meets the rock again (the track to the Upper Pillars departs from here). Pull up to the ledge right of the climbing rātā to gain the crack. From a poor rest move up to the roof, and use good holds to the right to climb the top crack to a double ring anchor.

Lindsay Main, 2019.

Crack Addict
18
10m

A very short but steep crack just to the right. Avoid the highly dodgy loose flake in the horizontal crack to the left. Solid bridging to the roof with a committing move through. On up to the anchor on the left. The top crack needs cleaning.

Lindsay Main, 2019.

HM
The Hollow Man
17
15m
4

Just right of the main ridge, at a cleared area. Starts left of a smooth slimy wall with undercut honeycombed rock and edge features. Clip the first bolt and use the edges to pass the close-spaced second bolt (crux),; then on up the rib left of the vegetation past two more bolts.

Hugh Logan, 2019

Bi
Bikini
18
25m
6

A climb in two parts. Start up the left-leaning crack feature past two close bolts, then pull up on to the ledge at the third bolt (crux). Up over the ledges to the crack with a bulge feature on its left. Mount the bulge erotically and continue up easy featured terrain to the Hollow Man anchor on the left.

Lindsay Main, 2019.

MD
Magnificent Death
15
25m
5

Refers to the pine tree slaughter hereabouts. About five metres right is a sharp-edged, irregular rib. Step up on to the rib and pull on to the ledge past the second bolt. Up over a small bulge to a scrambly section on the rib until a small corner onto a mini pillar, with small holds on the final slab. The anchor is to the left at the top of The Hollow Man.

Lindsay Main, 2019.
UUID:
a2567c5e-6218-44e5-a27f-0539423ce236