A small crag located to the southern end of the Devils Gap.
The routes have been set up by Matthias Kerkmann and Shane France with help of Julien Aubry.
Access:
Parking as for the main climbing area. Walk through the gate and follow the farm track for ca. 200mm. From here traverse under the main crag toward the southern end following a cow/sheep track. Please do not access the crag by climbing the fence further down the road.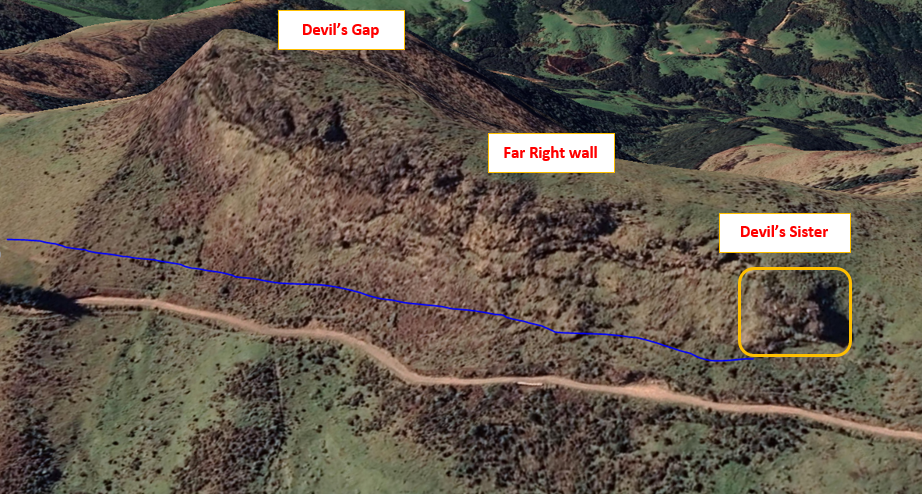 Reference
Title
Grade
Length
Quality
Bolts
Gone
Natural pro
Link to edit content
FD
The French Devil eats my soul
19
20m
3

Located on the north facing wall.

Julien Aubry 2019

LD
Le Diable
22
22m
5

Starts 4m right of the left buttress.

Julien Aubry 2019

DaF
Demon Fracture
20
25m
2

Follows the RH crack of and obvious blank, orange rock scar. Two bolts at the bottom leading into the hand crack. Continue the crack slightly left and up passing a large flake.

Shane France 2020

closed project
25
25m
1

Route project still under development

DFl
Devil's Flow
24
25m
6

Athletic climbing over a bulge (crux) followed by steep face climbing to a ledge. Follow the right arete to the top.

Matthias Kerkmann 2020
UUID:
1a05f10c-6918-4e2a-a15e-ba1f9c661840