First ascent
Ben Ellis, Jack Grinsted, Tom Botterill
Cross the schrund at the base of the spur then climb up an open book corner
with solid rock pro. Follow this corner of stable red greywacky for three
pitches. Climbing on the spur is straightforward.. The rock quality
decreases with height, ending in a classic, weetbix scramble up onto the
summit ridge.
---
P1
16
Alpine (Technical) 3
Alpine (Commitment) IV
Alpine (Mt Cook) 3+
Water Ice WI2
Mixed M3
600m
7 pitches, with some simul-climbing.
---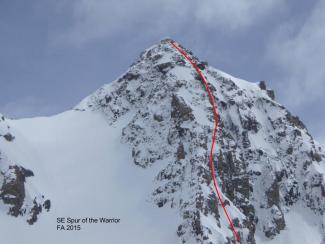 UUID
8eda3f46-d618-4649-bfb6-2cf3d59e7b5e