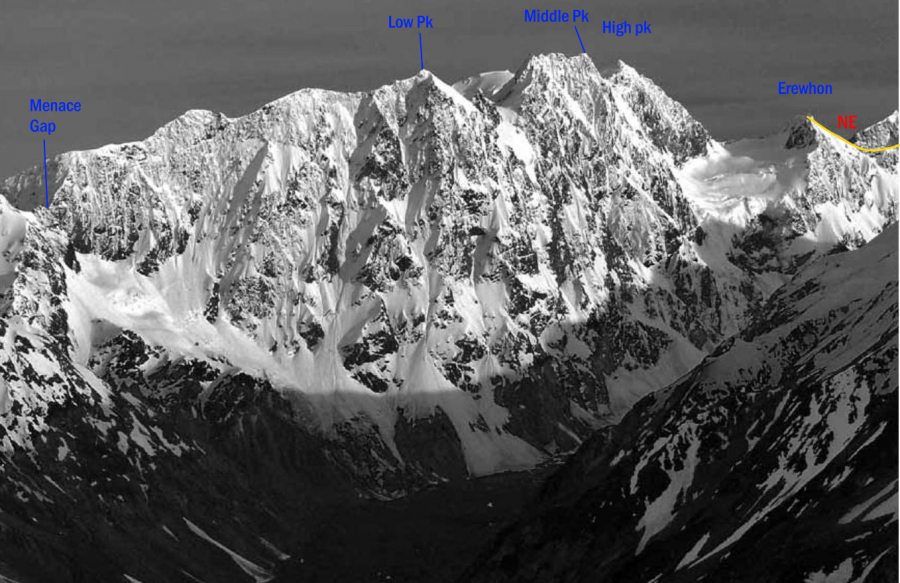 Reference
Title
Grade
Length
Quality
Bolts
Gone
Natural pro
Link to edit content
NE
North East Ridge
2-

First climbed en route to first ascent of Mt Whitcombe's North East Ridge. Follow the rock ridge from Erewhon Col to the summit.

Roger Chester, Alan Willis, Bill Mirams, December 1931

Ramsay Face

Follow a couloir to the left of the lowest rock buttress, take a diagonal traverse and eventually reach easy snow slopes to the summit.

J Hulmes, Wil Lammerink, 1972

West Flank
1+

From the unnamed glacier between the Bracken and Snow Dome, a gravel shelf leads diagonally up to the wide, flat col 300 metres north-east of Erewhon Peak. A moderate snow shoulder leads on to the peak. Alternatively, from the unnamed glacier follow up the glacial shelf north of Mt Whitcombe and follow the west ridge, sidling on the northern slopes as necessary.
Attribution:
Yvonne Cook and Geoff Spearpoint, in association with the Canterbury Mountaineering Club
UUID:
ce6d67d5-ec1a-493c-a51e-45932a058b20