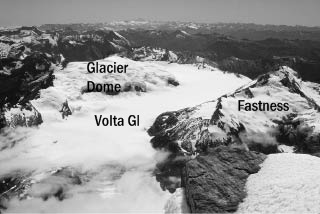 Reference
Title
Grade
Length
Quality
Bolts
Gone
Natural pro
Link to edit content
Via Ruth Ridge.
III 2

Climb Ruth Ridge and cross the Volta to the straightforward snow slopes leading to the summit of Glacier Dome, five to six hours from Ruth Flat. ➠ Note: Getting onto the Volta may be problematic at times, e.g. late summer, due to a steep broken section.
Attribution:
Allen Uren & John Cocks. Photo Duncan Ritchie.
UUID:
566fc1f0-0ca3-40cc-9828-f40f6e7b2105