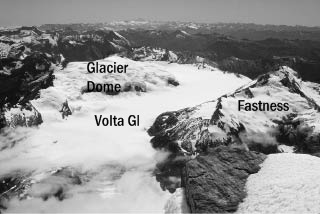 Reference
Title
Grade
Length
Quality
Bolts
Gone
Natural pro
Link to edit content
North Ridge
III 1+

The first 300m are steep and are climbed by a series of steep and loose rock couloirs, with some difficult pitches towards the top. The angle then eases and a long section can be turned on easy snow on the west side, before a final short, steep rock pitch leads to the summit.

Paul Powell, Keith Skinner, Peter Child and Geoff Bayliss, January 1965

South Ridge
III 1

The South Ridge is a straightforward rock ridge rising from the Volta Glacier near Rainbow Col. This col is not accessible from the east. To descend the South Ridge to Moncrieff Col would take about 3 hours.

Garth Matterson, Don Mee and Dave Tarrant, January 1959

4
East Ridge
III 3+

The ridge rises steeply for about 400m in a series of buttresses from the west end of Wilmot Saddle. The rock is generally poor, and is muddy and vegetated on the East Face side. Belay points are found using pitons and a good selection are recommended for this route. The ridge was also descended after the first winter ascent using two 60m ropes and pitons. Normal descent routes available are via Moncrieff Col or Ruth Ridge. Gain the foot of the ridge from Wilmot Saddle or by steep gullies leading to a prominent notch at the foot of the ridge. When there is sufficient snow the gully option is the best. The first buttress is good rock and may be climbed direct; thereafter the crest of the ridge is followed where practicable until the angle eases and either the ridge or a snow route on the South Face can be followed to the summit. Although the first buttress is the most technically demanding part of the climb, the first party considered a very steep, poorly protected pitch of mud and rubbish necessary to bypass the third step, as the crux. It may be possible to bypass this pitch by continuing straight up the buttress, although this may be more technical. Times. From Wilmot Saddle to the top of the steep section takes about four hours, with a further two hours to the summit. From the summit to Moncrieff Col requires about three hours.

Bruce Robertson and Laurie Kennedy, January 1974

South Face
4 13

Lots of stuff at about rock grade 13. Quite a complicated route with lots of off-angle ledges.

Erik Bradshaw, Feb 2014
Attribution:
Allen Uren & John Cocks. Photos: John Clyma, DG Bishop & Ducan Ritchie.
Places
Type
Title
Link to edit content
Face (Alpine)
East Face

(2 routes)
UUID:
602c9595-0657-48fe-a7eb-9afa9cc2187c