Mt Stewart sits at the end of Jellicoe Ridge, above the lower Crow valley.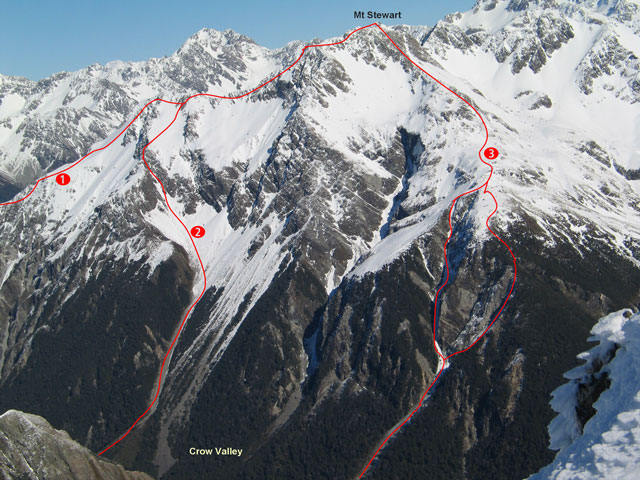 Reference
Title
Grade
Length
Quality
Bolts
Gone
Natural pro
Link to edit content
From the West
I 1

Reached by the stream which drains the Jellicoe Ridge 1km downstream of the White River conßuence. Moving east onto the tussock slopes once clear of the bushline, head towards the saddle between Mt Guinevere and Mt Stewart. Both mountains may be reached via this route on their respective ridges.

1
South East Ridge
I 1

From the confluence of the Waimakariri and Crow Rivers. An alternative route follows the slope opposite Greenlaw Creek to access the bush line and then sidles east into the south basin and on to the Low Peak.

R R Chester, I W Tucker, C W Evans and A H Candy, 1927

2
From Lower Crow River
I 1

Ascended out of the lower Crow River via the scree (Otira 886035) that leaves the Crow River about 2km upstream from its confluence with the Waimakariri River. Follow the slope around to the south at its head aiming for a narrow couloir/rockgut that ascends onto a spur leading to the 1810m knob (an easier climb with snow). The narrow, craggy South Ridge is then ascended onto MT STEWART. (Ungraded)

3
North East Ridge
I 2

Climb the narrrow scree gut leaving the Crow River 150m downstream of the major creek that drains the basins under Mt Guinevere. Ascend 500m then break left or right up the loose steep ground to join the easier slopes of the North East Ridge to the summit.
UUID:
ba447418-7caa-422f-90ce-530f18ec0e7c