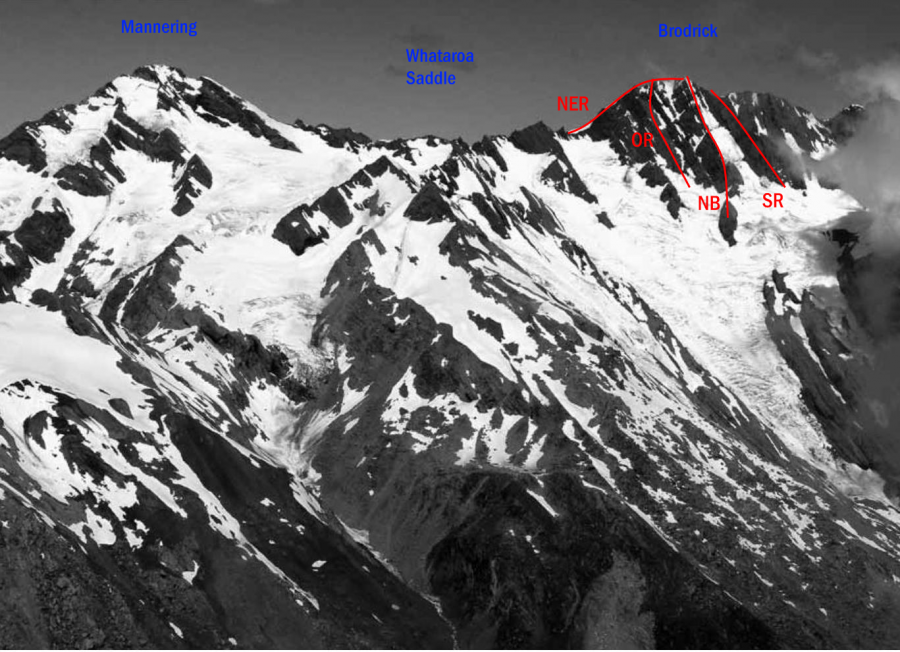 Reference
Title
Grade
Length
Quality
Bolts
Gone
Natural pro
Link to edit content
From Whymper Saddle

From Whymper Saddle follow the Main Divide firstly on snow then rock to the Low Peak.

D W Beatty, P A L Fraser, A W McNaught, J V McNulty, Jan 1955 (Low Pk)

South West Ridge

The vague feature on the left side of the peak seen from Murchison Hut.

John Gamlen, Keith McNaughton, Dec 1967 (Descended)

Loves Last (South Face)
4-

Take the central gully and then enjoy ice on rock.

Graham Love, Dave Carlyle, Sep 1985

South East Ridge
2-

From Classen Saddle climb snow slopes to arrive high on the Main Divide north of the summit, then continue to the summit.

First Ascent Unknown

Main Divide
2-

From Classen Saddle traverse to the vicinity of Whataroa Saddle, then up south-eastern snow slopes (or rock depending on conditions) and then traverse the Main Divide to the summit.

Will Kennedy, Jack Lippe, Jan 1917

From Whataroa Saddle

From Whataroa Saddle follow the rock and snow ridge of the Main Divide. Alternatively, turn to the western side and climb snow slopes that lead to a point north-east of the summit.
Attribution:
Alex Palman, Yvonne Cook and Geoff Spearpoint, in association with the Canterbury Mountaineering Club
UUID:
3cefbf0f-614a-451a-93e6-6e9e3f1c1ae3