Who says Wellington doesn't have any sport climbing?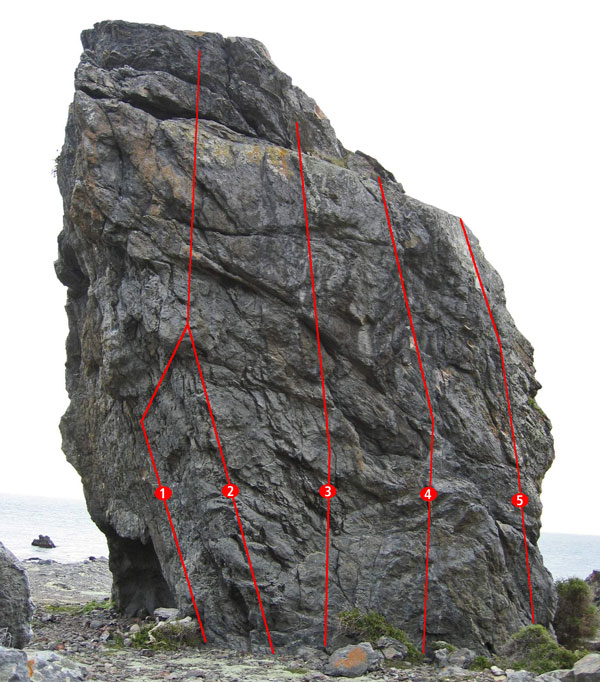 Reference
Title
Grade
Length
Quality
Bolts
Gone
Natural pro
Link to edit content
1
Shape Me Up
22
15m
4

Start up Shape Shifters and after the second bolt make a hard move onto the right side of the prow, finishing on Let Me Up.

Kristen Foley, 2004

2
Let Me Up
22
15m
3

A classic route with beautiful moves, climbing the right side of the prow. Originally a top-rope problem, Richard Thomson hand-drilled a bolt in 1988 and climbed the route with natural gear (finishing out left on the edge of the arete) – and a rest later eliminated by Roger Parkyn who named the route Padded Cell. Retrobolted, reclimbed and renamed by Richard Thomson in 2001.

3
Go For It!
23
14m
3

Spring up on jugs, then pause to figure out the hard move past the third bolt. Single bolt belay.

4
Cracker
19
14m
1

Climb the wall past a bolt, then place a cam or two in the crack and complete the crux. Single bolt belay.

5
An Alien At My Table
18
12m
3

Pleasant face climbing, with a tricky step up and right onto the top slab. Single bolt belay.
UUID:
c9514277-ee10-4947-a5ef-1c052a7c132e