The "Surrealist Wall" is above the track, on the left, opposite the start of "The Ravine".
If you think the names are unusual, try looking for their name sakes in
works of Salvador Dali. Some of the lines on the right hand side are still to be climbed.
Access:
A
track has been cut along the base of the cliff, with access from either end or several points
straight up through the gorse. Descent can be made down the gully in the centre of the cliff, or around either end.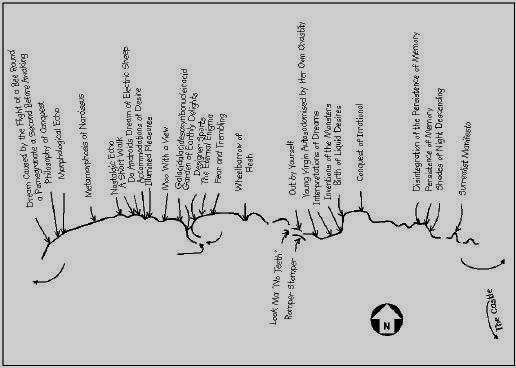 Reference
Title
Grade
Length
Quality
Bolts
Gone
Natural pro
Link to edit content
Surrealist Manifesto
12
10m
4

There are two ribs on the far left end of "Surrealist Wall". Climb the longer right rib and slab to the top.

Grant Pearson 19-Jun-97

Shades of Night Descending
13
13m
2

A left slanting groove, just left of the third arete on the left end of "Surrealist Wall". Follow the arete using RP's for pro. Continue up the slab to the top.

Adam McMillan / Grant Pearson 13-Jun-90

Persistence of Memory
11
15m
3

The arete on the right of" Shades of Night Descending". Interesting rock formations, but do not break them! 3 bolts, DBC belay. Either abseil off, traverse off to the right, or continue up the gentle arete to the very top.

Adam McMillan / Jeremy Bainbridge-Smith 10-Jun-90

Disintegration of the Persistence Of Memory
13
15m
4

The rounded groove just right of "Persistence of Memory", finishing on the same rib.

Adam McMillan / Grant Pearson 13-Jun-90

Persistence of Time
14
10m

An obvious dark arete, right of "Persistence of Memory". Nice climbing if sometimes fragile. Named after an Athrax Album. May be worth a clean and a couple of bolts

Fiend (solo) 13-Nov-02

Conquest of Irrational
14
18m
3

About 20 metres right of "Persistence of Memory", "Surrealist Wall" juts out, with a large ledge on top. Climb the left hand side of this buttress, up a line of large knobs and ledges. 3 bolts, and 2 thread runners. SBC and fixed peg belay at the back of the ledge. Either scramble off to the left or abseil off.

Grant Pearson / Jeremy Bainbridge-Smith 31-Mar-90

Birth of Liquid Desires
12
15m
1

The arete, right of "Conquest of Irrational", starting from a higher level. 1 bolt, but use your nuts (#9 Rocks) to get to it. Belay at back of ledge. More difficult than it looks when you are still intoxicated!

Grant Pearson / Jeremy Bainbridge-Smith 5-May-90

Inventions Of The Monsters
13
15m
1

The corner 2 metres right of "Birth of Liquid Desires". Avoid the dirty finish by traversing left, clip the bolt, and up the arete. Excellent protection in the crack. Belay as for previous climbs.

Grant Pearson / Adam McMillan 6-May-90

Interpretations of Dreams
16
25m
6

Start up the face 2 metres right of "Inventions of The Monsters". Continue up the obvious arete, above, to the top. 6 bolts, fourth has a fixed hanger. Belay anchor is the rock bollard, further back from the cliff, with a bolt to keep the rope from slipping off. The DBC is for top roping, not for belaying from the top.

Grant Pearson / Adam McMillan 12-May-90

Young Virgin Autosodomised By Her Own Chastity
12
18m
4

Climb the slabby face, 2 metres right of "Interpretations Of Dreams", finishing on the ledge. 4 bolts, first 2 do not take hangers, run out between the second and third. DBC belay. Either grovel off the top, or abseil off. Adam McMillan /

Jeremy Bainbridge-Smith, Grant Pearson 12-May-90

Romper Stomper
16
10m
2

From the top of Out by Yourself, climb the short face to the left past two bolts. Belay as for "Interpretations of Dreams".

Dave Smith. Dave Campbell / Zed 3-Apr-93

Out by Yourself
12
8m
2

About 5 metres right of the previous climb is a small rounded face. climb this with 2 bolts for protection. DBC belay. Either scramble off to the right, or climb a second pitch.

Kip Mandeno (solo) 17-Mar-90

Look Ma "No Teeth"
13
5m

The short unprotected face above Out by Yourself. SBC belay.

Kip Mandeno (solo) 24-Mar-90

Wheelbarrow of Flesh
18
20m

Start up the corner 15 metres right of "Out by Yourself". Continue up the thin seam, to the large crack. Climb the under-side of the crack, until you can pull up on to the small ledge. finish on top of the slab. A full rack is required from #1 RP to #3.5 Friend. Double bolt belay.

Grant Pearson / Kip Mandeno 24-Mar-90

Fear And Trembling
18
16m
4

The face further right of "Wheelbarrow of Flesh", past a large ledge. 1 double bolts, 3 single bolts which do not take hangers. DBC belay.

Phil Higgins / Grant Pearson Jan-90

The Eternal Enigma
17
20m
6

The rib, 4 metres, right of "Fear And Trembling", at the left hand base to the descent gully. 6 bolts, first 2 do not take hangers. DBC belay.

Grant Pearson 17-Mar-90

Designer Sports
24
15m
6

The bolted overhanging face to the right of "The Eternal Enigma", on the left side of the descent gully. Start from the right. Continue past 6 bolts with hangers (plus some extra old bolts), on good sinkers. DBC belay.

Phil Higgins 7-Feb-93

Garden Of Earthly Delights
13
6m
2

The descent gully, with steps, divides the cliff in two. The climbs are to the right of the gully. Garden Of Earthly Delights (13) 6m The corner on the right hand side of the descent gully. Step out right, and up, just below the top. 2 bolts, double bolt belay.

Grant Pearson / Adam McMillan 13-Jun-90

Galacidalacidesoxyribonucleicacid
20
12m
3

The overhanging arete starting at the base of the descent gully. Start on the left of the arete, finishing on the right. 3 bolts with hangers, double bolt belay.

Grant Pearson 13-Jun-90

Moo With a View
17
12m
5

The face right of "Galacidalacidesoxyribonucleicacid", just past the skeleton of a cow hanging out of the rock. Much easier if the wall to the right is bridged. Well protected with 5 bolts. Double bolt belay.

Kip Mandeno / Grant Pearson 9-Dec-90

Illumined Pleasures
17
12m
4

Right of "Moo With a View" is a clean arete, just before a crack. Climb the arete using holds on either side. From the top platform, mount the top of "Do Androids Dream of Electric Sheep" to belay. 4 bolts without hangers. SBC belay. Originally bolted by Fraser McRobie in 1990.

John Woolford / Grant Pearson 23-May-93

Accommodations of Desire
16
12m
2

The crack between "Illumined Pleasures" and "Do Androids Dream of Electric Sheep". Start up the ramp, then continue up the crack, past the bolts, to the top. A good climb for placing protection from small wires to #4 Friend. Belay as for "Do Androids Dream of Electric Sheep".

Grant Pearson / John Woolford 23-May-93

Do Androids Dream of Electric Sheep
18
15m
5

The left of two obvious grooves, right of "Accommodations of Desire". Start up the easy ramp, then climb the groove, finishing on the left. 5 bolts, first does not take a hanger, the rest have fixed hangers. DBC belay. The name is taken from the book that the film "Blade Runner" was based on.

Stuart Gerritsen / Shane McQuoid, Grant Pearson 8-May-93

A Short Walk
18
15m
5

The right of two obvious grooves, right of "Accommodations of Desire". Start up the easy ramp, as for "Do Androids Dream Of Electric Sheep", then move right after the first bolt and climb the right-hand groove. 5 bolts, but the first does not take a hanger. DBC belay.

Bryce Martin Dec-97

Nostalgic Echo
15
10m

Groove and "S" shaped crack, in the middle of a buttress, about half way from the descent gully to the end of the crag. Mixed pro, from #1 RP to #3 Friend. Finish on the large ledge. SBC and fixed peg belay and abseil, as well as a DBC on the ledge above the climb.

Grant Pearson / Kip Mandeno, Fraser McRobie 10-Jun-90

Metamorphosis of Narcissus
19
20m
1

Start up the easy angle slab to the vertical crack, which veers left from mid-height. Continue to the top past a fixed peg. You have the choice of lowering off the bolt and chain, or grovelling over the top to the belay ledge. 1 bolt, does not take a hanger, 1 peg, DBC belay.

Grant Pearson / Shane McQuoid 6-Mar-93

Morphological Echo
15
20m
1

The third to last of the main diagonal cracks, on the right of "Surrealist Wall". Follow the vertical crack until it veers left. Continue straight up to join the next crack at the top. Take good selection of wires. 1 bolt, DBC belay.

Grant Pearson / Kip Mandeno 9-Dec-90

Philosophy of Conquest
17
22m
1

The crack 3 metres right of "Morphological Echo", before the chimney. Follow the crack all the way, with the crux at the bulge. Small and medium sized wires give good protection. 1 bolt, DBC belay.

Grant Pearson / John Woolford 30-Dec-90

Dream Caused by the Flight of a Bee Round a Pomegranate a Second Before Awaking
16
15m
6

The buttress on the right of "Philosophy of Conquest". Climb through the groove in the bulge, then continue up, finishing on the right past a crack. 6 bolts, 2 have hangers. Take a #.5 Friend or #7 Rock for the crack. Either lower off the SBC, or scramble round the back of "Philosophy of Conquest" to belay. A consumer route, and Shane's attempt at the longest route name in the world!

Shane McQuoid / Grant Pearson 8-May-93
UUID:
cec5c638-26ce-4e2c-94b2-53b47dca82f8