"Cosmic Wall" is a large obvious buttress, and detached pillar, overlooking "The Ravine", on
its northern side.
Access:
Access is possible from the first steep grassy slope on the right, after
passing the gate entering "The Ravine". The next gully is steeper, but gives quicker, and
easier access to the western face of "Cosmic Wall". Alternatively, walk above
"Assassination Wall" to the top of "Cosmic Wall", which is marked by a large pine tree. The
descriptions start on the left of the west face, finishing on the right of the east face.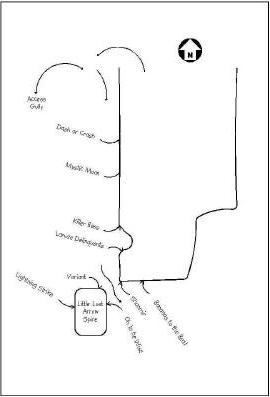 Reference
Title
Grade
Length
Quality
Bolts
Gone
Natural pro
Link to edit content
Dash or Crash
20
15m
6

Follow the central line of bolts up the sheer left section of the wall. 6 bolts with hangers, DBC belay. You had better dash up this one, otherwise your arms will pump and you will crash.

Allan Cox 12-Dec-97

Mystic Moon
23
12m
4

Follow the line of bolts up the centre of the wall, about 4 metres right of "Dash or Crash".

Allan Cox 15-May-97

Killer Bees
19
13m
6

To the right of "Mystic of Moon", at about 4½ metres from the right hand end is a scoop. Climb the left hand edge of the scoop. 6 bolts, crux at the 3rd. A pillar and bolts for belay.

Allan Cox / Claire Wyatt 17-Feb-95

Larvae Delinquents
14
9m

Climb the right hand edge of the scoop 2½ metres right of "Killer Bees". Finish 1 metre right of the bees nest. Apparently the bees are usually no problem (except on stinking hot days!). No bolts yet. You may be able to find your way to the top of the first pitch of "Bananas to the Beat".

Allan Cox (solo) 19-Dec-94

Shanmir
18
10m
4

Climb the right hand arete of "Cosmic Wall". 4 bolts with hangers, DBC on top, and a SBC at the base. Shanmir is Sanskrit for wisdom.

Allan Cox / Adam Saunders 16-Jan-97

Bananas to the Beat
15 ,
25m
1

The crack that overlooks The Ravine, on the end of the buttress. Scramble down past "Shanmir" to get to the start.

#
Ewbank
Alpine (Technical)
Alpine (Commitment)
Alpine (Mt Cook)
Aid
Water Ice
Mixed
Boulder (Hueco)
Length
Bolts
Trad
1
15
25

m

1
Yes

Follow the crack that widens from small wires to a chimney. Avoid the chimney by
finishing up the face to the right past a single bolt. The balayer should be
anchored to small wires. Take small wires and Friends #3 and #4. Also take a
hanger for the bolt. DBC belay on the large ledge.

2
0

m

Yes

Climb the easy short wall above to the top. Medium sized Friends can be useful in
the crack.

Grant Pearson / Jim Napier, Ken Morison 23-Mar-91
UUID:
dfc57122-15bc-477c-9a49-cf6631da1732