So named when both Bryce and Michael threw sickies after a wet weekend. Perfect
weather, a new wall with five new climbs on it, and the fact that Cliff was stuck at work
after driving around all weekend in search of dry rock, left an indelible memory.
Access:
From River Wall follow the farm track along the river to a set of double gates. Monday
Wall is about 200m away on the left on the other side of a swamp. Monday Wall is the
East facing wall you walk up to.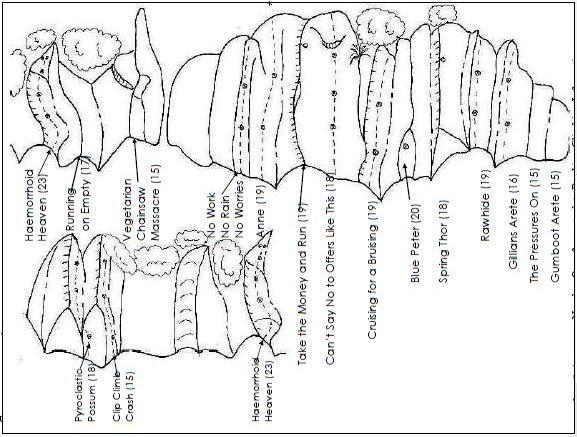 Reference
Title
Grade
Length
Quality
Bolts
Gone
Natural pro
Link to edit content
Pyroclastic Possum
18
10m
4

Climb the arete 1m left of Clip, Climb, Crash. 4 naked bolts. Shares the same belay.

Andrew Sussex, Anne Hewlett 1-2-93

Clip, Climb, Crash
15
10m
3

Start 15m left Haemorrhoid Heaven up a buttress to a deep crack and corner. Finish right past 3 naked bolts to a DBC belay.

Andrew Sussex, Rhys Lewis 30-1-93

Haemorrhoid Heaven
23
10m
3

This left facing wall is short but very strenuous. 3 naked bolts and TBC belay. The crux is between the bolts.

Bryce Martin 25-10-92

Running on Empty
17
10m
2

Climb the face past 2 naked bolts. Topping out is the crux move. DBC belay.

Bryce Martin, Michael Camilleri 5-10-92

Vegetarian Chainsaw Massacre
15
15m

A deep narrow groove 3m right of Running on Empty. All natural pro: mainly small to mid size friends and wires. Fine climbing and good protection makes for a classic climb. Belay off a large tree about 10m back from the top. Walk off.

John Smith, Dan Hawthorn, Bryce Martin 25-10-92

No Work, No Rain, No Worries
17
10m
2

This pleasant climb follows twin cracks, each with miniature corners. 2 bolts. DBC belay.

Bryce Martin, Michael Camilleri 5-10-92

Anne
19
10m
5

Shallow arete with 5 bolts. Shares the belay with TTMAR 3m to the right.

Andrew Sussex, Bryce Martin, Michael Camilleri 31-10-92

Take the Money and Run
19
12m
1

The main central feature of the cliff is a right facing corner 3m right of No Work, No Rain, No Worries. Has 1 naked bolt and a fixed peg near the top. There is a great placement for a large RP half way between the bolt and the peg. The crux is just above the bolt. Exit left to a DBC belay. Wear your red caps for this one.

Bryce Martin, Michael Camilleri 25-10-92

Can't Say No to Offers Like This
18
12m
5

Never shy about appropriating routes Bryce scored good moves on clean rock supported by 5 bolts and a DBC belay.

Bryce Martin, Cliff Ellery 25-4-93

Cruising for a Bruising
19
19m
5

Climb the right wall of this left facing corner past 5 bolts. The crux is low down. Share the belay with Blue Peter 2m to the right.

Bryce Martin, Michael Camilleri, Andrew Sussex 31-10-92

Blue Peter
20
12m
4

A groove/crack up the middle of buttress. 4bolts . Gear can be arranged if crack if deemed necessary. DBC belay.

Bryce Martin, Michael Camilleri 5-10-92

Spring Thor
18
10m

A deep right facing corner with a fixed peg near the top. To start scramble onto the ledge where you can place a 1.5 or 2 friend and a small wire. These had better be good as there is no more gear till the peg. Move left at the top to the belay of Blue Peter.

Bryce Martin, Michael Camilleri 5-10-92

Rawhide
19
10m
2

A narrow arete with parallel cracks immediately right of Spring Thor. Sports 2 naked bolts and a DBC belay.

Bryce Martin, Michael Camilleri 5-10-92

Gillians Arete
16
8m
3

Suprisingly delicate climbing is required here. 3 bolts and a DBC belay.

Michael Camilleri, Bryce Martin 25-10-92

The Pressures On
15
8m

Nice bridging moves & pockets.

Woman Auckland Auckland, Lee-anne Parore 7/03/04

Gumboot Arete
15
4m
2

A short climb with a long history. At least four previous attempts ended in dismal failure: lack of commitment and gumboots being critical factors. DBC belay & 2 bolts, so walk off.

Andrew Sussex [Solo] 1-2-93

Easy Tiger
13
5m

Bridge across the corner. Good beginner climb.

Lee- anne Parore 7/03/04
Places
Type
Title
Link to edit content
Wall
On the Back

(6 routes)
UUID:
0af9cdf0-e255-41ac-a7e2-c5dab9fabd5a