EAST SIDE
Picks of the boulders:… Angel of discomfort (V1), problem #5 (V5)
WEST SIDE:
Picks of the boulders:...Tank Top (V5), Reservoir Dogs (V5)
Access:
Information Continue down the farm track from the alchemy wall, past the trail boulders. The reservoir boulder is right at the bottom of the valley on the right hand side of the track. East side is the first wall you come to.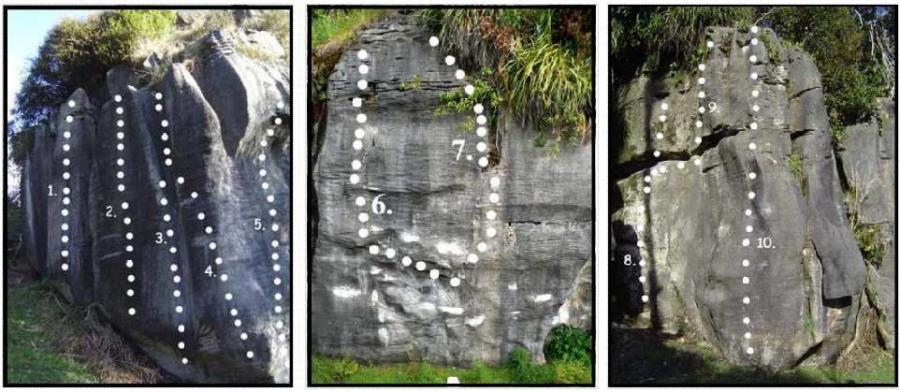 Reference
Title
Grade
Length
Quality
Bolts
Gone
Natural pro
Link to edit content
1
1
V0

Easiest way up/down to check those slopers!

2
Angel of Discomfort
V1

span the runnels and work your way up

(Dave Addison)

3
Lazy Monday
V3

layback the left side of the runnel

(James Morris)

4
4
V5

Start right hand on the slopey arête and left in the runnel, exit up Lazy Monday.

(Bevan Jenkins)

4a
4a
V6

Sit start to problem 4. Pull up from good right-hand slopey boss, to the hold in the left runnel, mantle.

(Bevan Jenkins)

5
5
V2

V2*...Obvious line on the end of the wall, through the bulge.

(Bevan Jenkins)

6
The Ninja Rejector
V9

Start on the crimps in the middle of the face and head left and up through Slopers.

(Stu Kurth)

6a
Empire Arete
V7

Start on the slopey arete left of "NR", head up and right, finish up "NR".

(Stu Kurth)

7
Tank Top
V5

Start on the same crimps as project, but head to the right, through the cracks and groove. Exit through the epiphyte (original send) or traverse left to a safer top out.

(Bevan Jenkins).

8
8
V3

Variation of #9. Eliminating the vertical crack, mantle the slopey ledge and reach for the jug.

(Bevan Jenkins).

9
9
V3

Fun line, through the awesome sloper, and layback the crack.

(Bevan Jenkins).

10
Reservior Dogs
V5

...pull on the two slopers, smear a foot, powerful move to the jug, top out the column.

(Bevan Jenkins).
UUID:
a47269b4-69c9-4a65-a912-a010ef3ffa4e