Picks of the boulders:...Problem 6 (VM), Open up Dyane (V3)
Access:
Follow the vague farm track onwards past the turn off to Highball wall, until another even vaguer track breaks up right over the hill on which The Greek Gods can be seen sitting.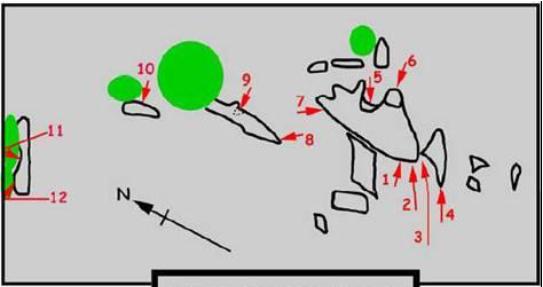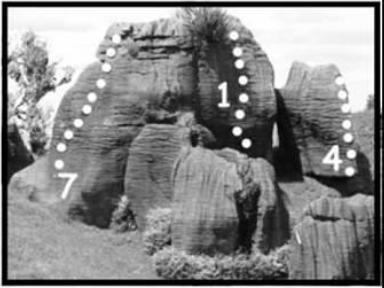 Reference
Title
Grade
Length
Quality
Bolts
Gone
Natural pro
Link to edit content
1
Where's My Venus?
V5

Sit start from vertical crack to use only the crimps on the steep wall.

(John Newby)

2
Fight for Jupiter
V2

Arete right of 'Where's my Venus?'.

3
3
VM

Chimney from the downhill side. Obvious.

4
Open Up Dyane
V3

Sit start with hands and feet on prominent nose (not down on the embedded rock!). Up to layback arete.

(John Newby)

5
5
VM

The wide chimney/scoop. Bridge or face climb.

6
6
VM

Up the blocky arete and over the loose hanging boulder.

7
7
V1

The rounded arête/face is well worth doing.

8
Graved Nipples
VM

Short steep arete.

9
9
V1

Short but committing. From protruding step, up short vertical crack.

10
10
V7

Sit start on under clings, head up left slopey fin to top.

(Liam).

10a
10a
V4

Start as for #10 then from the slopey fin make your way back further round to the second more positive finish.

11
Pit of Dispair
V5

The next two problems are in a small tree covered gully. Warning!!! Take care in this gully, entering only past problem 12 as there is a deep tomo at the other end.

12
12
V3

Short rounded arête.
UUID:
c0065985-ba29-4261-9e2e-0d59d7e80432