From the yards head straight up the hill along the fence line passing Wave wall and North Face (East end). 30metres down and right from the ridgeline fence is this colourful slab. If you are into highball slabs then grated parmesan should be on your list.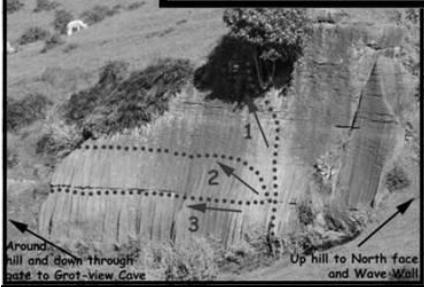 Reference
Title
Grade
Length
Quality
Bolts
Gone
Natural pro
Link to edit content
1
Grated Parmesan
V3

Slab to oyster fossil and then slightly left.

(John Newby).

2
2
V1

Feet on horizontal break and traverse left. Delicate.

3
3
V0

Low hand traverse along horizontal break.
UUID:
052a6d09-c0b7-4bf0-93dc-4e3bfecbb651