Access:
From the yards, follow the fence line up the hill then left along the vague farm track. Skyline boulders are the first on the left immediately off the track.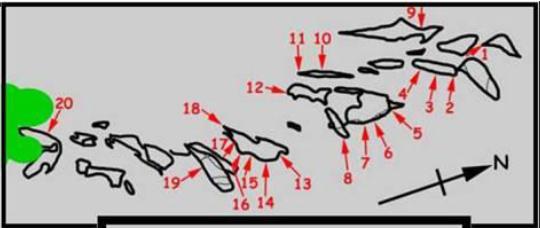 Reference
Title
Grade
Length
Quality
Bolts
Gone
Natural pro
Link to edit content
1
1
V1

Sit start. Up short overhanging arete.

2
2
VM

The right arete of the slab is a superb eliminate (VM+)

3
3
V1

Balancey moves up centre of slab.

4
4
VM

Through small shrub on left arete.

5
5
VM

Right arete. To break then smears.

6
Fresh Start
V2

Crimps and balance up face. Big move over break to the deepest flutings.

7
7
V0

Directly up to big holds above break on left arete.

8
Picking the Nose
V2

From the short face under the hanging nose, lean out and crank up it.

9
9
VM

High step and stemming.

10
Penetration on Impact
V2

Delicate face on smears and crimps. Above the large and jagged boulder. Don't fall!

11
Alternative Pleasure
VM

PLEASURE…Up the face using right arete.

12
Spiral Staircase
VM

Step up, around, and mantle.

13
13
VM

Smear and mantle open chimney and arete.

14
Dwarf Toss
V3

Reach high or jump to flutings on bulge. Straight up.

15
15
V2

Crimps to start in middle of face. Through shallow groove on open handed pinches.

16
16
V2

From under cling. Eliminate jugs left, and mount bulge.

17
Hop On
VM

Hop from adjacent rocks onto smear and jugs. Over 'Ridgewalker', but be careful on the descent.

18
Ridgewalker
VM

Arete to sharp ridge. For the full tick try walking off!

19
19
V3

V3*...Sit start. From sloping crimps reach to break and mantle over. Short problem but fun.

20
Ecoterrorism
V4

Sit start. One move wonder. Left hand takes vertical slot. Smear then big move.
UUID:
649dc5fd-28d3-43ce-8b0f-8eff7e8dff30