The problems here need a bit of searching out but are worth it for some sloper action. Picks of the Bunch: A little bit camp (V5), Heavenly Curves (V6)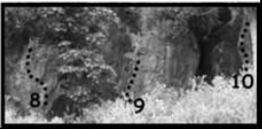 Reference
Title
Grade
Length
Quality
Bolts
Gone
Natural pro
Link to edit content
1
1
V2

Sit start. A rather contrived line and hard to follow but nice moves anyway. Reach left, low across the groove and then up on thin holds.

2
Heavenly Curves
V6

A Brilliant find. Sit start on the fallen slab and clamp the big rounded arête. Slap up then mantle.

(Bevan Jenkins)

3
A little Bit Camp
V5

To the right of 'Heavenly Curves', stand start holding the lowest slopers. Pull on and campus left until the mantle of Heavenly Curves can be managed.

(John Newby).

4
Rabbit Thrutch
V3

Sit start in crack, and swing right near the top into the next finger crack.

5
5
V6

A lovely rounded and steep arete can be found hiding in the bush. Precise sloper moves and extra reach can make this soft for the grade.

(Steve Conn).

6
Project
-4

A clean groove up the face.

7
Project
-4

A steep rounded arete.

8
Burly & Insensitive
V2

Jugs, from right arete and swinging left, and up. Or direct at V3.

Burly & Insensitive SDS
V7

The Sit start on good jugs on left, go right to pocket and crank to side pull

(Stu Kurth)

9
9
V1

Sit start. From under the under cut arete pull up and big throw for the jugs.

Secret Sequence
V7

Pull on tiny crimps and do a one legged squat.

10
Dreamweaving
V1

Technically nonstrenuous. Straight up steep, stepped arete.
UUID:
ee3dfbc1-f6e4-4468-938f-2fe3af45fce1