This is a small wall located at the far right end of Whakapapa Crag. It's about a 15min walk from Whakapapa ski field base, and the wall faces ENE so sees good morning sun. It's a great little crag for teaching/learning climbing, especially when combined with Halfmoon crag 100m away.
There are access bolts on a small but easily accessible ledge at the top which allow you to safely access most of the anchors for setting up top-ropes with groups. Just be aware as it is a narrow-ish ledge, but there are bolts you can clip into at the start of the ledge (the narrowest bit) which you can also use to access the bolts for Dissident. Even Flow has its own access bolts. All climbs are bolted for people learning to lead, and all anchors have lower off rings.
Climbs are described from left to right.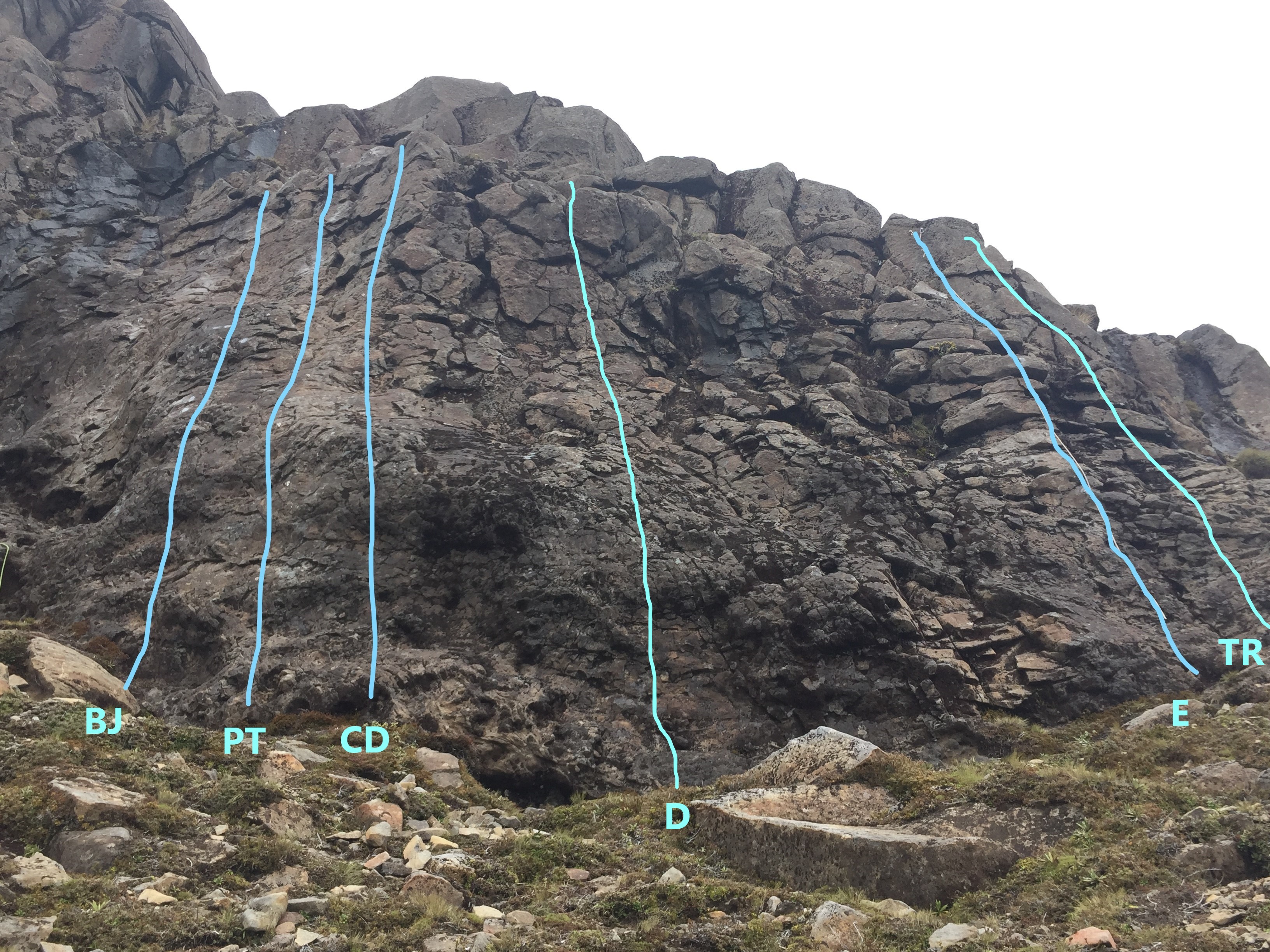 Reference
Title
Grade
Length
Quality
Bolts
Gone
Natural pro
Link to edit content
BJ
Brain of J
12
5

Starting up left in the scoops, move up onto the slabs and finish with a tricky move to the anchor. Any guesses for who sang this song? 5 bolts, DRB (double ring bolt) anchor.

PT
Peara Tiamu
12
5

Meaning = Pearl Jam in Te Reo Maori. Starting in the lowest/right scoop, move right onto good holds then climb up onto slab (crux). The head wall has some good holds and moves. 5 bolts, DRB anchor.

CD
Climb of Doom
11
5

Up the smooth lower wall (crux) which leads to the nice headwall. 5 bolts, DRB anchor. FA: Annie Beisly.

D
Dissident
16
5

Starting just left of the practice anchor bolts, move up the steep wall for a brief rest on the slab. Like a good movie, the climax/crux is at the very end; try not to use your belly or knees, instead use style and grace. 5 bolts, DRB anchor.

E
Even Flow
9
5

Up the clean stairway of solid blocks. Great first lead. 5 bolts, DRB anchor.

TR
Tiptoe Ridge
6
4

Same grade as its namesake, but about 120m shorter, although this one has 4 more bolts than the Ozzie version. 4 bolts, DRB anchor.
UUID:
aedea727-dc08-49a9-a4ba-b64c6f33ecfa